Aug 27 2020
Saving the World from Crisis Through the Power of Fashion.What Actions Has Philanthropist Kikka Hanazawa Taken?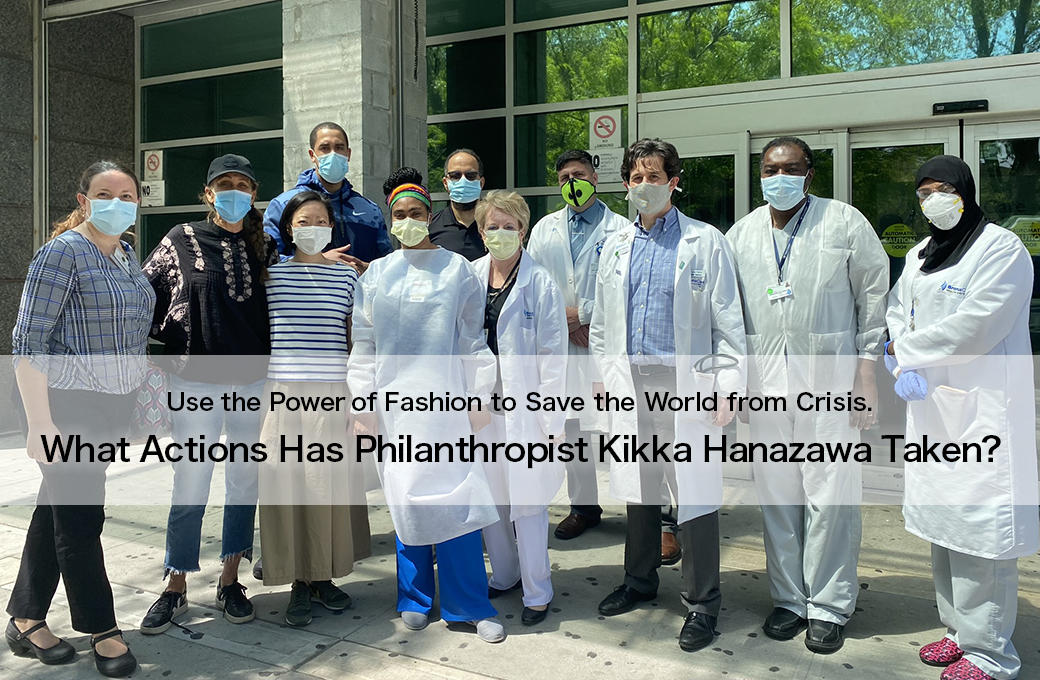 The COVID-19 coronavirus pandemic continues to spread across the world. In the United States, which has the highest number of cases globally and is confronting a dire shortage of personal protective equipment (PPE,) one Japanese woman has stood up to help through the power of fashion.
Kikka Hanazawa is a New York-based fashion industry executive. She is also our client using S.I.C. stretch tape for her own brand's products. This issue introduces Hanazawa's latest humanitarian activities as we share with as many people as possible how she has taken action to change the world through Fashion Girls for Humanity, a nonprofit organization that she represents.
---
The Nonprofit Humanitarian Activities of Kikka Hanazawa, a Japanese Woman on the Forbes Philanthropy List
Kikka Hanazawa, one of Forbes' 48 Heroes of Philanthropy in 2014, represents Fashion Girls for Humanity (FGFH), a charitable 501(c)(3) nonprofit organization she cofounded in the wake of the 2011 Great East Japan Earthquake. FGFH fundraises through its global fashion network for communities in need. Amid the acceleration of COVID-19's spread, Hanazawa searched for something she could do as a fashion professional through FGFH, launching initiatives in March.
---
Wanting to Help with the Shortage of Medical Gowns
Hanazawa's Idea to Save the World
In mid-March, as the COVID-19 coronavirus spread globally, a number of states imposed stay-at-home orders in the United States, where Hanazawa resides. There were shortages of medical gowns all over the world, and every day there were media reports about medical workers wearing trash bags as protective gowns. Seeing this, Hanazawa looked for a solution through fashion and came up with the idea of making a disposable medical gown and distributing its pattern."Luckily, our VPL brand's factory was not shut down because it manufactures military-related products. Thinking about how we could make use of this opportunity, which we were lucky to have, I tried to obtain a sample medical gown to make a pattern."
However, medical gowns, which are necessary for protecting the lives of healthcare providers, were so scarce that it was very difficult to find even one sample. Because they were entirely unavailable in New York, where Hanazawa lives, she asked a doctor in Los Angeles to send her one. Unlike ordinary clothes, medical gowns have specific standards and instructions about how they are to be worn to ensure they are effective and safe during the treatment of infectious diseases. Following the instructions, she took the sample apart to make a pattern.
---
Website Created Featuring a Free Downloadable Pattern
Over 100,000 Visitors from 160 Countries Around the World in 2 Months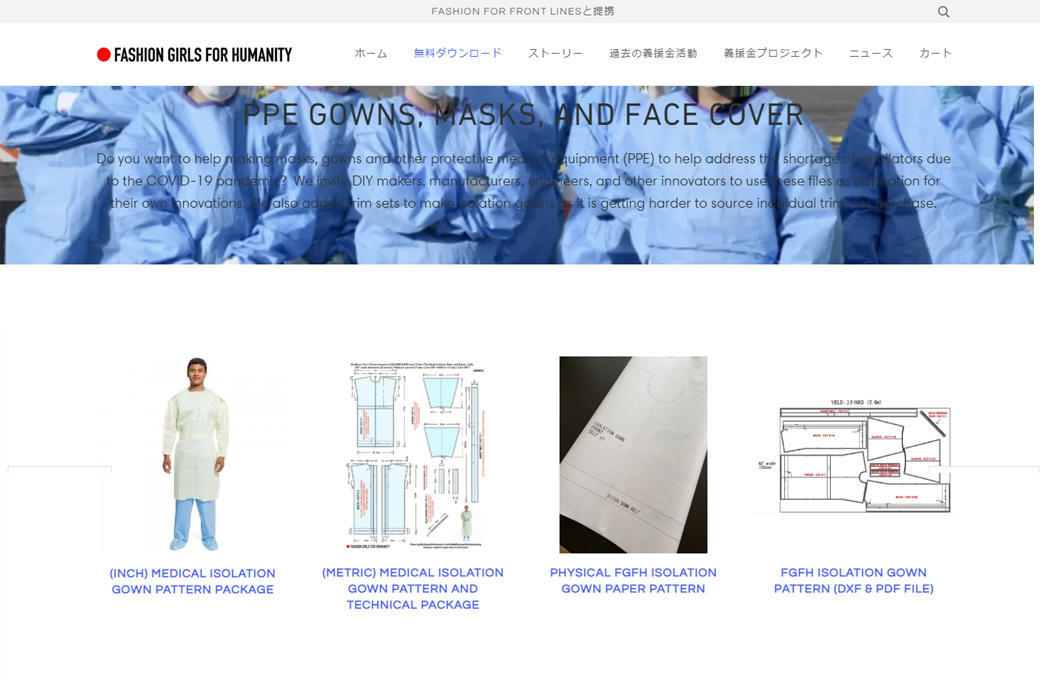 She believed that alone, she would never be able to make all of the gowns required by the world. By sharing the information, she hoped it would be seen by more people and enable as many people as possible to make gowns. She immediately released a video showing how to make a medical gown on YouTube.
Hanazawa posted a free downloadable pattern on the FGFH website. Less than a week later, the response was overwhelming: visitors to the website exceeded expectations and there were many questions and requests from those who had downloaded the pattern. From the feedback, the pattern was updated, and within two months of its release, it has been seen by more than 100,000 people in 160 countries around the world.
"Today we are able to connect with so many people around the world. That was a moving experience for me to see the possibilities of open innovation involving a number of people in the solving of global problems. Emotion moves people and creates new connections between people," says Hanazawa.
---
From Hospital Gowns to Face Masks to Caps, Patterns Become a Catalyst for Individuals Across the Globe to Contribute to Society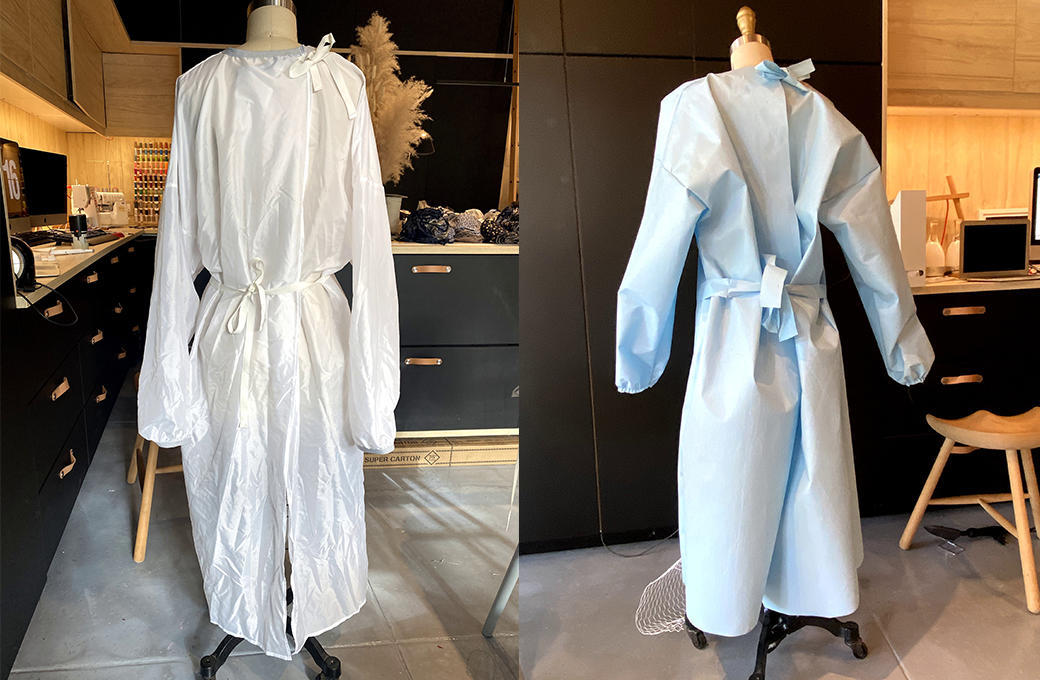 Hanazawa first created a simple pattern with dots and lines, but to improve functionality as a garment, she asked Overcoat, one of her partners, to produce a new pattern with curves. While the new pattern improved comfort, there was feedback from some volunteers that it was too difficult to make. She felt the need for various versions to be available and experimented.
Today, FGFH offers free, downloadable patterns for medical gowns, masks, caps and face covers on its website. The FGFH patterns are used not only in the United States but also in many other countries, with the sewn medical gowns being delivered to those in the most need.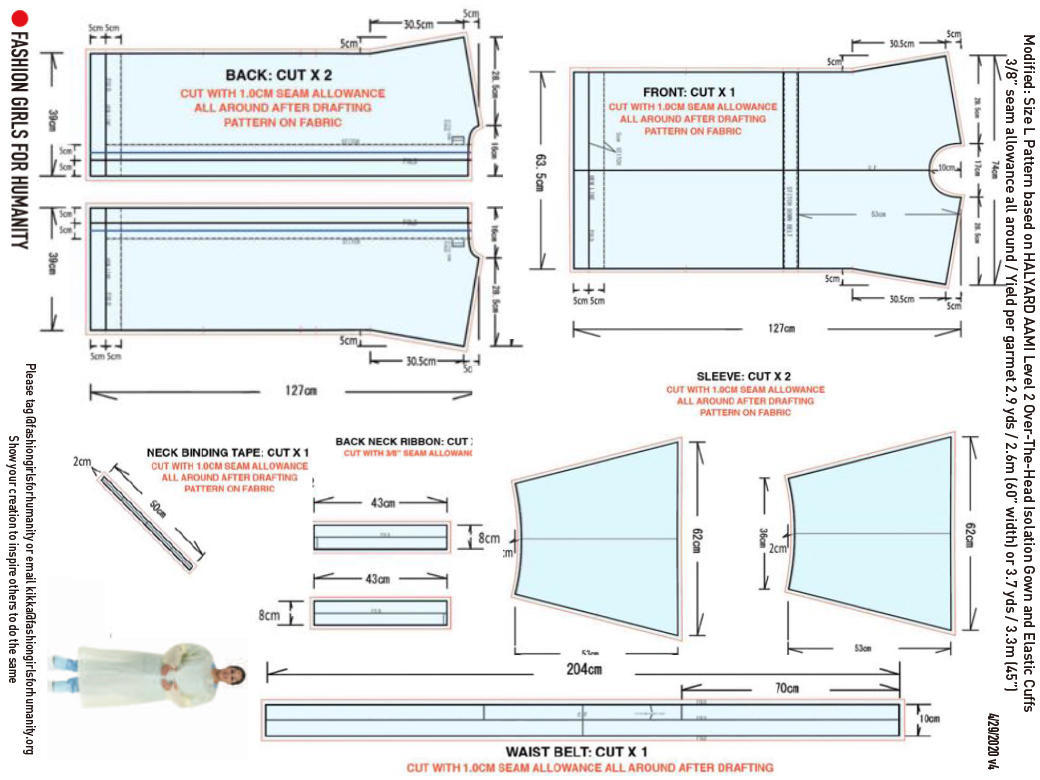 As the medical gowns handmade by volunteers are donated to local hospitals, the FGFH pattern has played a role in supporting cooperation among local communities and creating new value by connecting people. For those who have sewn medical gowns, it has provided an opportunity to help and contribute to society while staying at home.
---
The FGFH Pattern for Designer Masks
Proceeds Donated to FGFH's Gown-Making Fund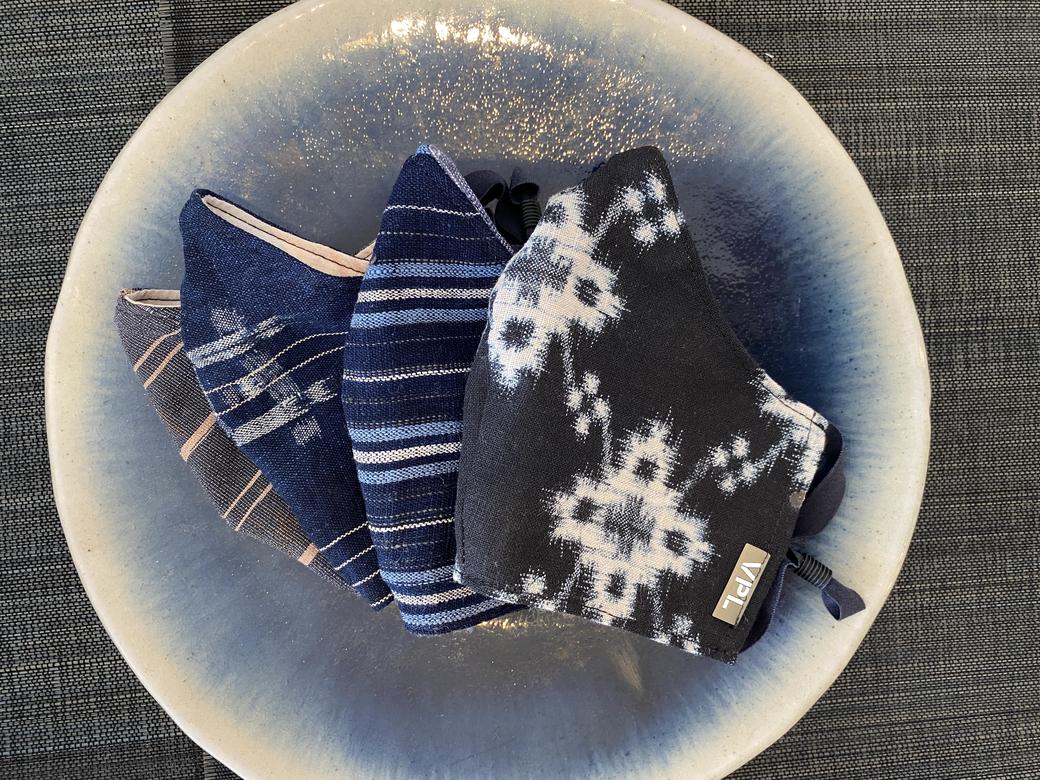 Following medical gowns, mask production also began. Originally, most people in the United States were reluctant to wear a mask. However, as the Governor of New York State Andrew Cuomo ordered residents to wear masks to help prevent infection, the demand for face masks suddenly increased, making them a scarce commodity. FGFH then created an original pattern, and with the cooperation of VPL, Hanazawa's fashion brand and designers, began manufacturing face masks.
In response to Gov. Cuomo's call for residents to wear masks, designer Christian Siriano also started making face masks. He used FGFH's original pattern to make 30,000 masks, which made news that was featured in the Washington Post and became a hot topic.
VPL has donated $20,000, the proceeds from the sales of its masks, to FGFH's gown-making fund. This fundraising initiative is now widely recognized, and the mask sales has been taken over by The RealReal, an online luxury consignment store.
---
Leftover S.I.C. Stretch Tape and Its Meaning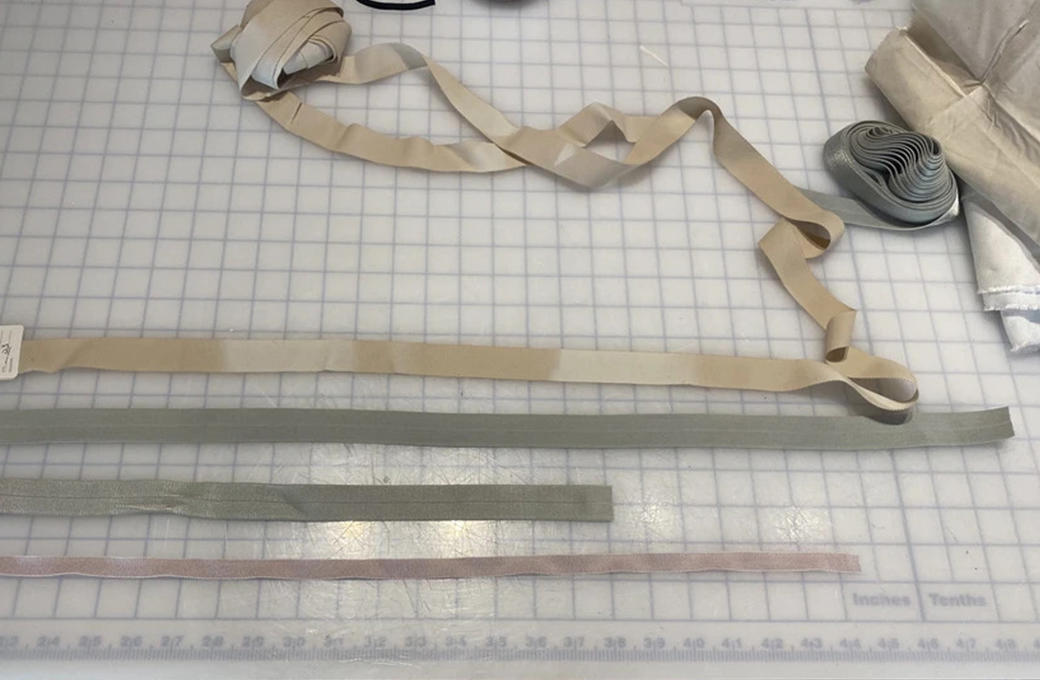 VPL had stored a large amount of S.I.C. stretch tape left over from its production of sporty lingerie. Today, this tape is being used to make medical gowns and masks. They have also prepared precut tape kits to be shared with other producers of medical gowns. The kit includes stretch tape for the neck, elastic for cuffs, and ribbon for the waist. To prevent abuse and diversion, they are sold for $5 per kit on the FGFH website but offered for free to those with the most need. In Washington, a dozen or so volunteers have made about 400-500 medical gowns from bed sheets. FGFH kits have been sent to aid their production.
Hanazawa told us that there were repeated discussions within VPL as to why the large amount of excess stretch tape should be kept.
"We did not have a clear answer, but the leftover tape, which could have been just discarded, are a very valuable material now. When I realized that they were destined to be medical gowns or masks, I cried."
---
Elastic for Masks Still Insufficient
More SHINDO S.I.C. Purchased to Increase Mask Production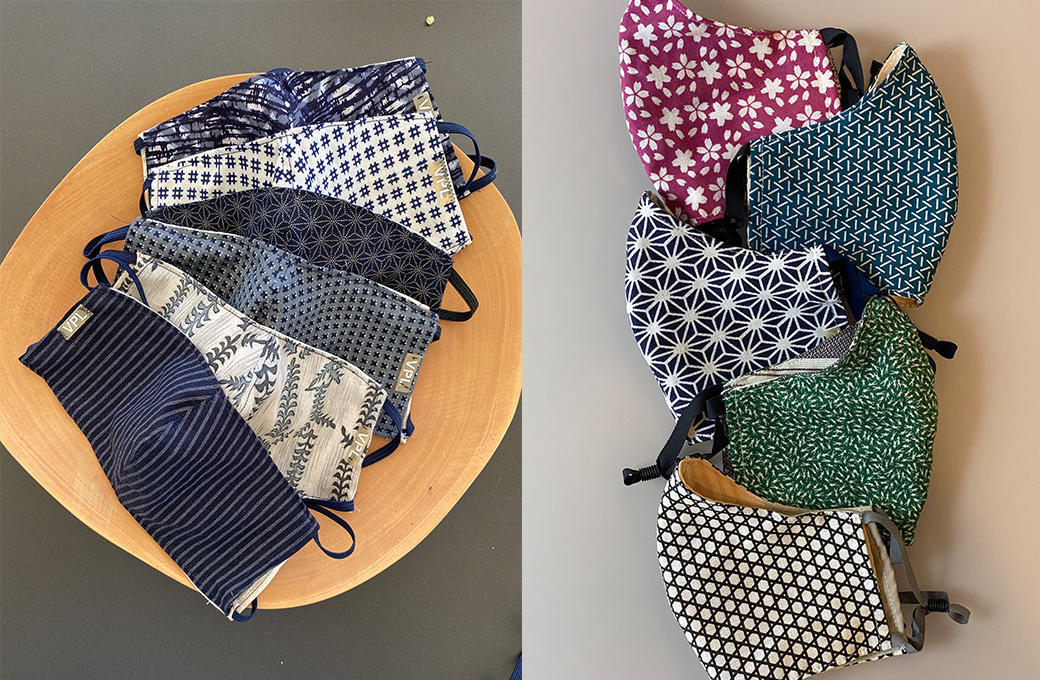 The FGFH mask, showcased in magazines such as VOGUE and ELLE, drew much attention. So far, 20,000 masks have been produced and sent to medical facilities in the United States and overseas."We ran out of the stretch tape the company had kept, and we are purchasing additional tape from SHINDO. Although the stretch tape is more expensive than the fabric itself, I am grateful for their support on the price."
In the United States, where pure white masks are often avoided, they deliberately use gray or navy for elastic rather than white. When it comes to masks, one size, or shape, does not fit all perfectly. Based on feedback from all over the world, they have continued to develop masks through trial and error.
---
A Turning Point in Fashion Brought About by the Coronavirus
Into an Era Where the Creation of New Value Is Vital
In the fashion industry today, with the rise of fast fashion, new designs are introduced every season, and the shortened cycle of the production and sale of clothing is taken for granted. However, with the impact of the COVID-19 pandemic, fashion is about to enter a new phase.
"I believe that one of the goals of fashion in the post-coronavirus era will be to rethink the accelerating fashion trend cycle. Merely changing colors or designs every season often generates wasteful products. From now, we will instead need to propose something truly valuable, such as health-improving products using technology."
Hanazawa can already see a future of sustainable development that begins with fashion. Above all, we wish for the eradication of the COVID-19 coronavirus as soon as possible, and we at SHINDO hope that we can cooperate in that as much as possible.
■VPL's YouTube Channel
Visit VPL's YouTube Channel to download isolation gown patterns, get technical information, and browse tutorials.
Kikka Hanazawa


Born in Tokyo in 1970 and currently residing in the United States, Kikka Hanazawa is an investor and philanthropist, and the CEO of VPL. In 2011, she founded Fashion Girls for Humanity, a nonprofit organization. In 2014, she was named one of Forbes' 48 Heroes of Philanthropy. She is active in a broad range of activities, including lecturing.

Fashion Girls for Humanity: https://www.fashiongirlsforhumanity.org/
VPL: https://vplstore.com/