TechniqueMay 29 2020
Logistics: Logistics Center Directly Connected with Factory
Our Inventory Control System Shortens Lead Time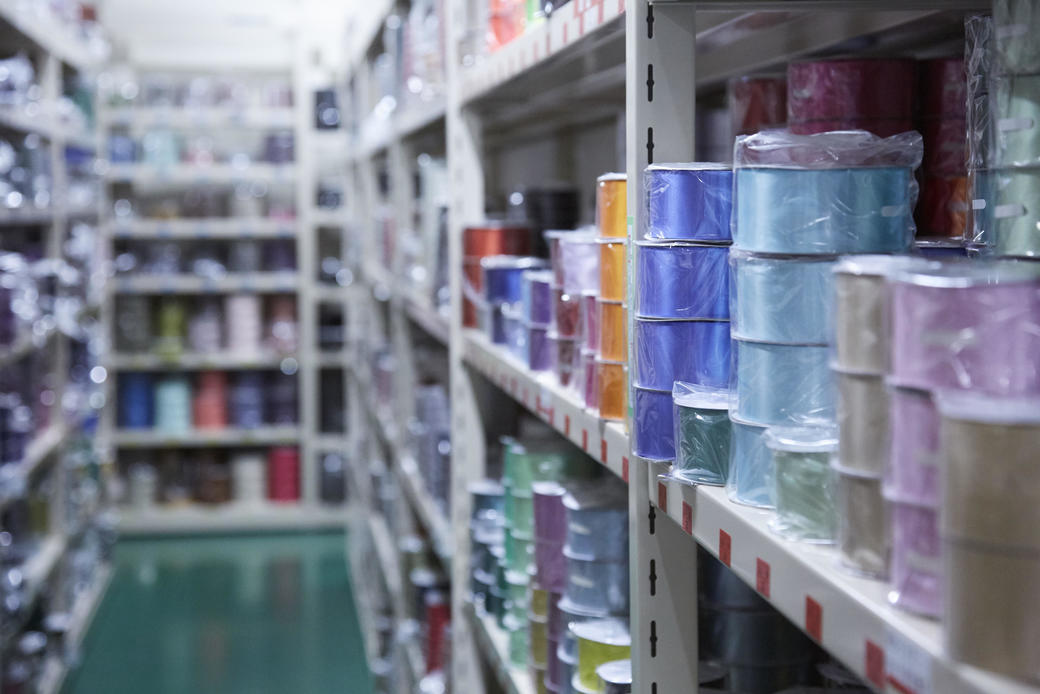 Let's turn our attention to our one-stop logistics division and see how SHINDO handles the entire process, from planning, development, manufacturing, testing and storage to shipment. The word "logistics" may be associated with the act of carrying cargo. However, it also involves many other processes. Everything we do is packed with ideas for ensuring more benefits for our customers, such as cost reduction and shortened lead time.
Satoshi Misaki, director of the Logistics Center, and Hitomi Yamamoto, leader of the Logistics Center, speak about SHINDO's logistics.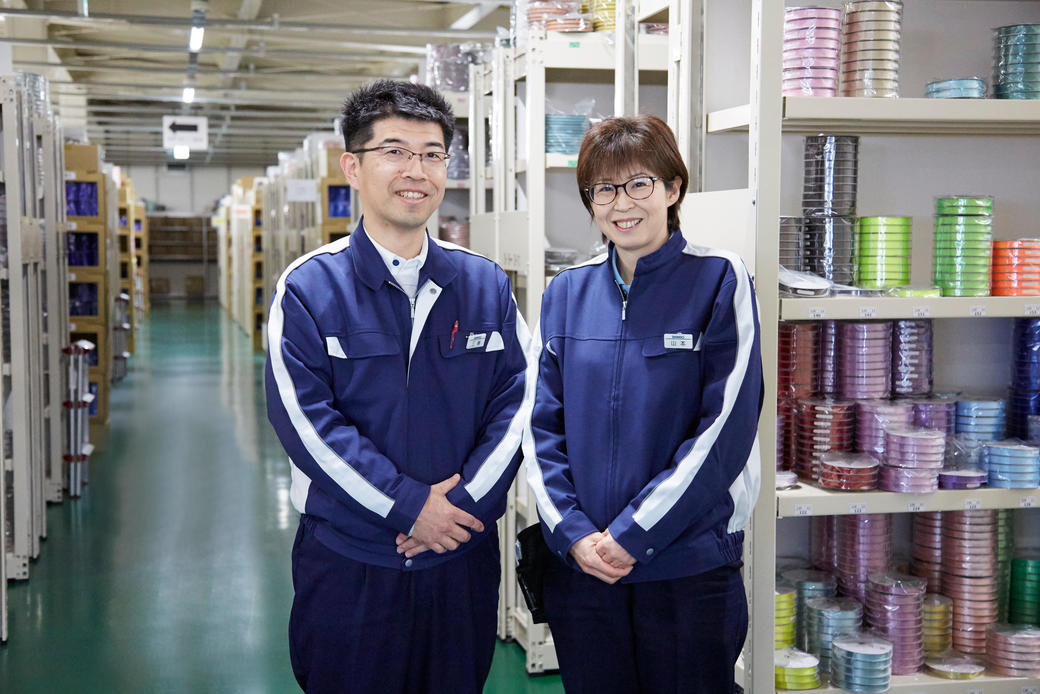 ▲From left: Satoshi Misaki and Hitomi Yamamoto of the Logistics Center
---
Our Latest Logistics System Manages 70,000 Cases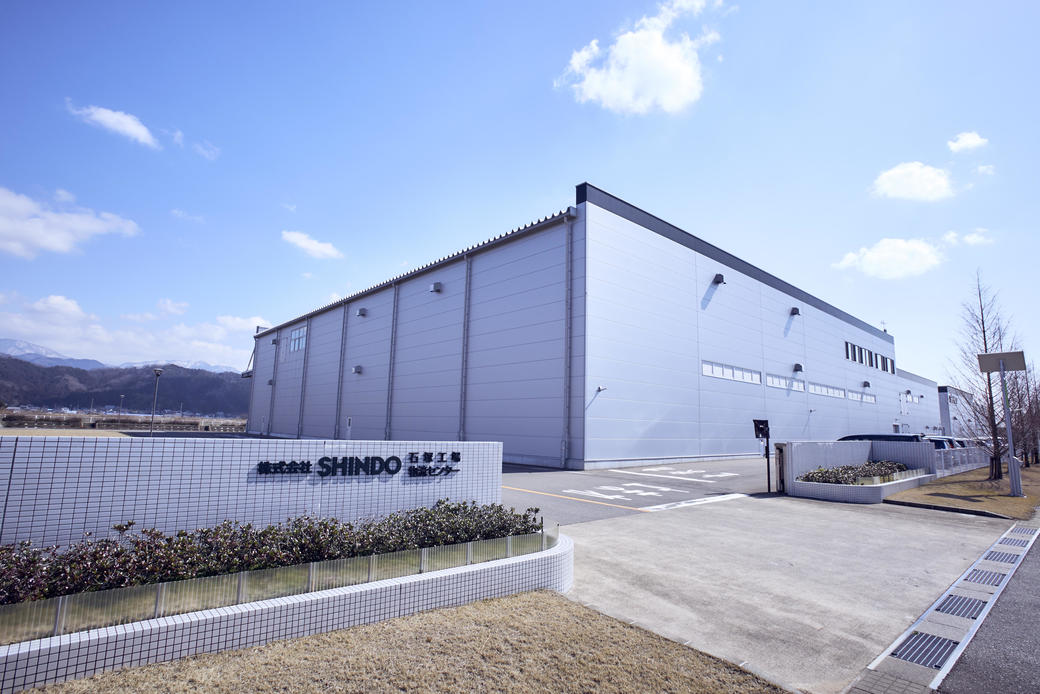 In 2014, SHINDO established a new form of product storage and a product control system which is capable of flexibly addressing customers' needs. SHINDO's new logistics center was opened in the same year to improve our level of service and reduce costs.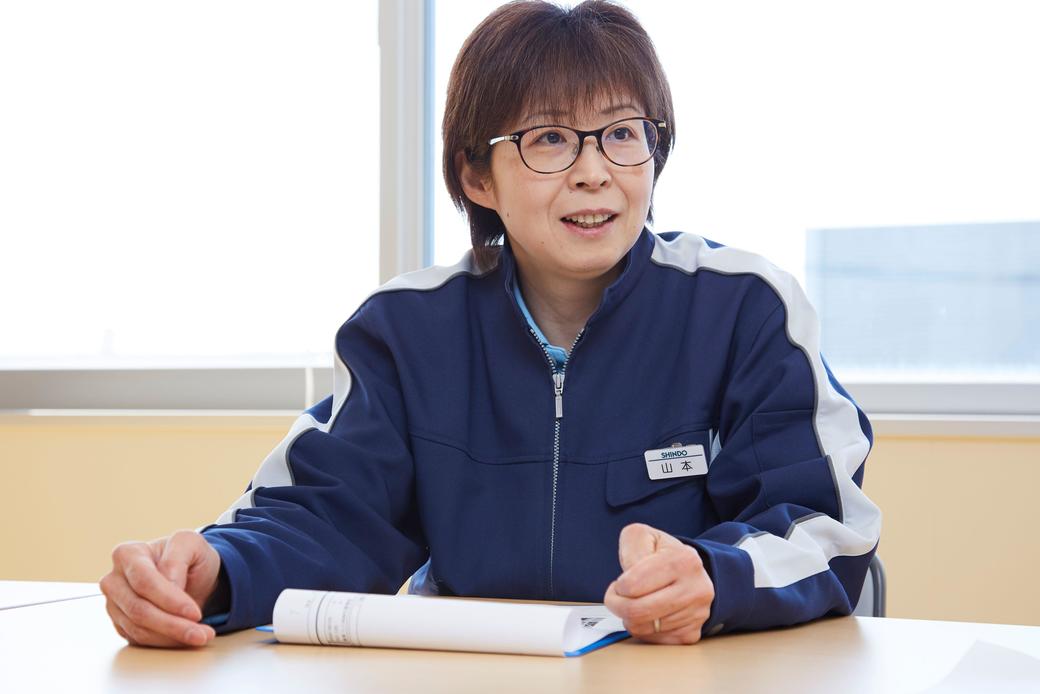 Yamamoto:As a leader, I control logistics sites while handling work for overseas shipping. For overall logistics, I mainly engage in warehousing, inventory control, picking products from the storage locations in accordance with orders, sorting products according to destination, packing, and shipping products for delivery. SHINDO's two story warehouse contains about 56,000 product items, including our original S.I.C. ribbons and made-to-order products. On the first floor of the warehouse, storage efficienc y is prioritized, and products from the factory are stored there. Boxes are kept in orderly rows.
▼First floor of the warehouse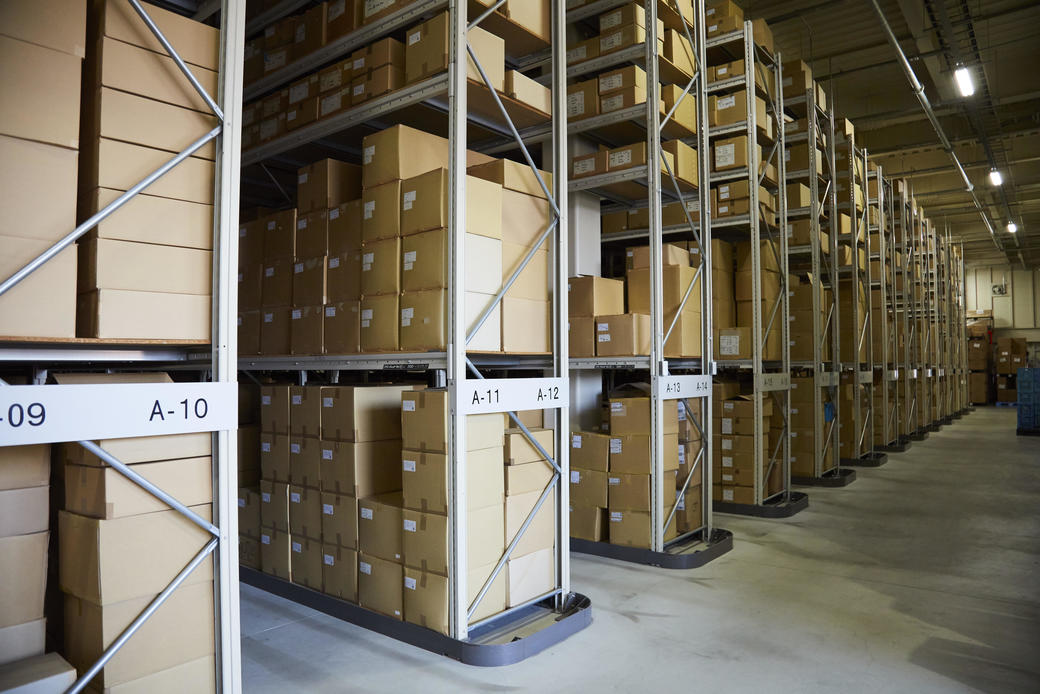 ▼Second floor of the warehouse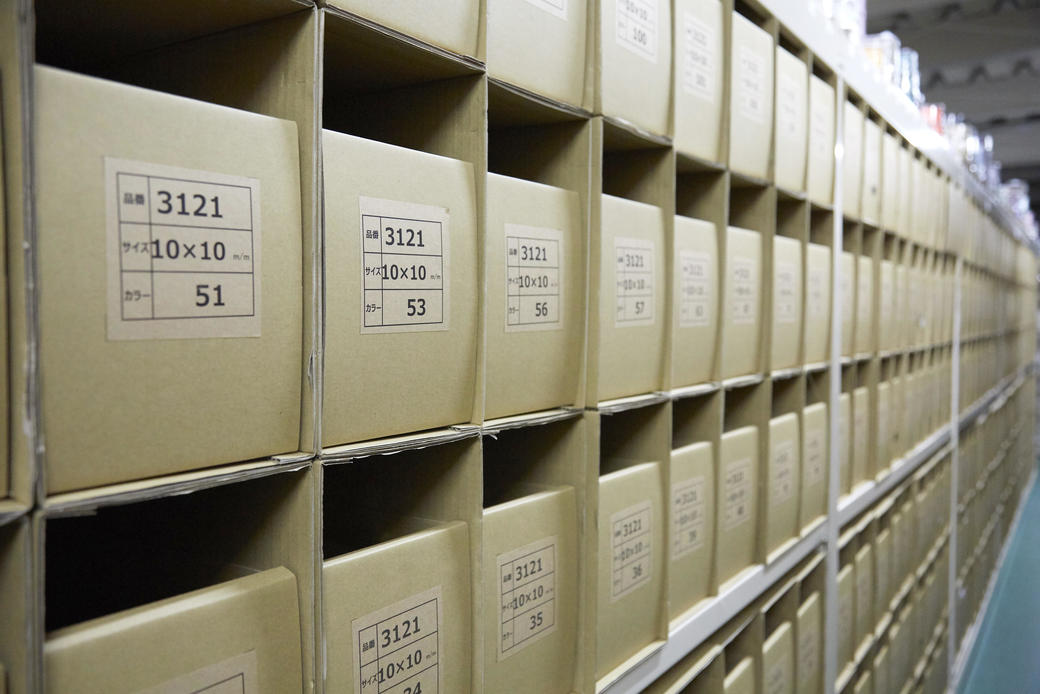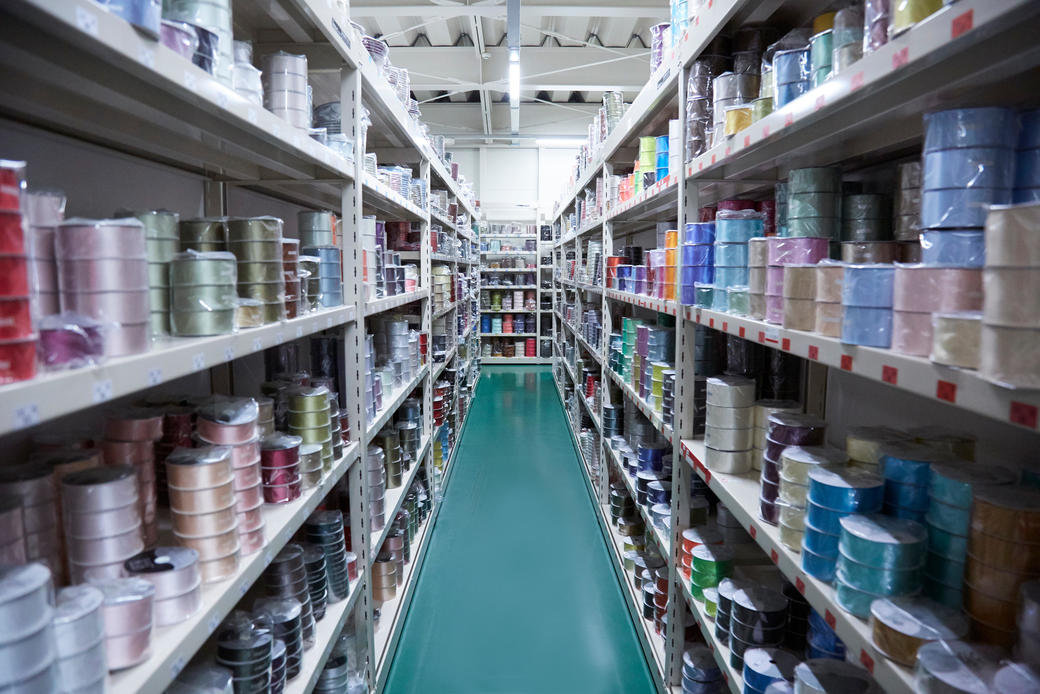 A certain number of products are also stored on the second floor which is divided into a warehouse area and a work area: the former allows for immediate picking of ordered products and the latter is designed for sorting and packing products before shipment.
Since picking is controlled by tablet, stock quantities are obvious at a glance and specific products are quickly identifiable. We share information with sales personnel beforehand in a careful effort to shorten lead time. Original boxes are created to efficiently use inventory space. To prevent errors in shipping, we use easily understandable management procedures and work properly, even on the first day in the workplace. Made by hand to facilitate picking, SHINDO's bespoke cart freely moves within the warehouse. The layout of the main floor for logistics work is designed for staff to be able to talk and see one another with ease. Combining systematic management with non-tech-savvy ingenuity, we simplify the flow of work from the receipt of an order to product shipment in pursuit of better work efficiency and teamwork across the entire logistics division.
▼Picking (original cart)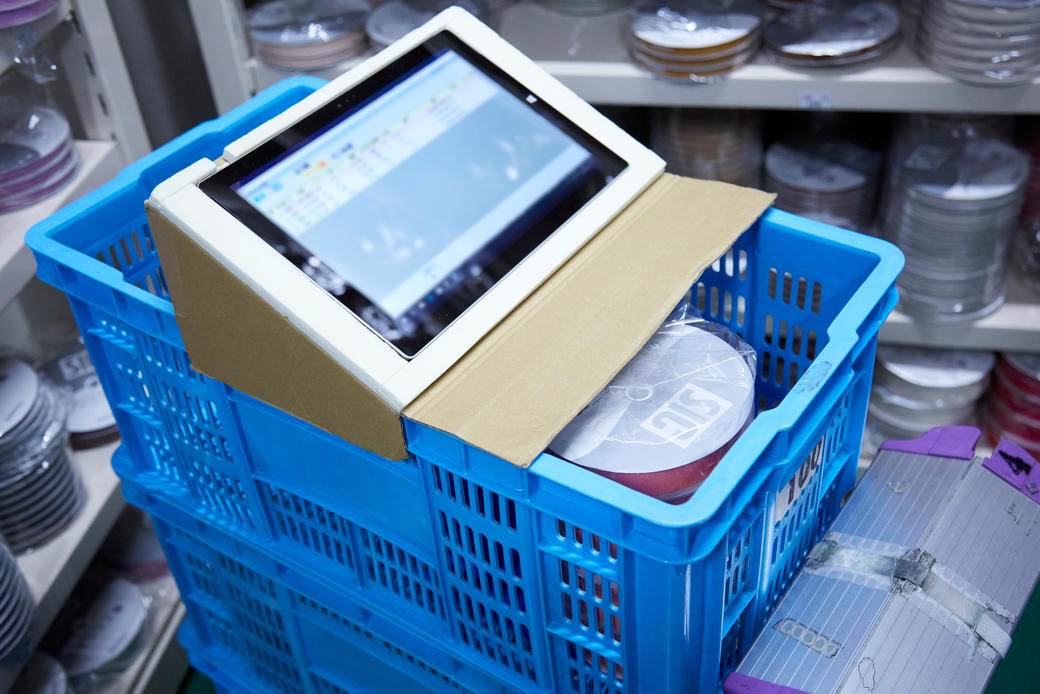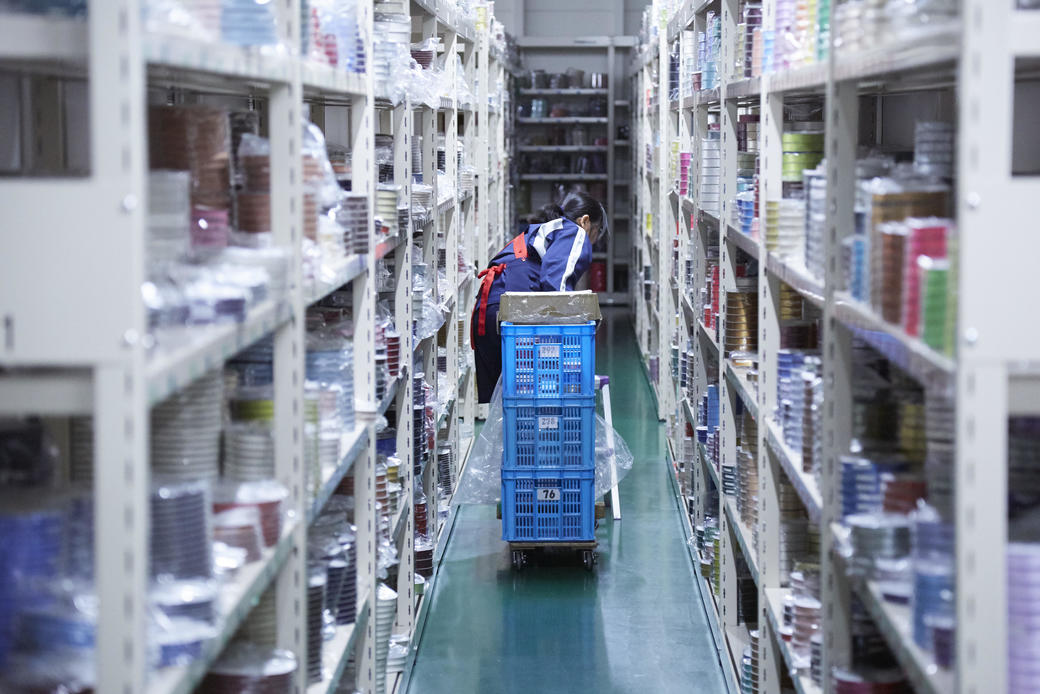 ▼Main floor for logistics work
---
Our Eco-friendly Logistics System Reduces Cost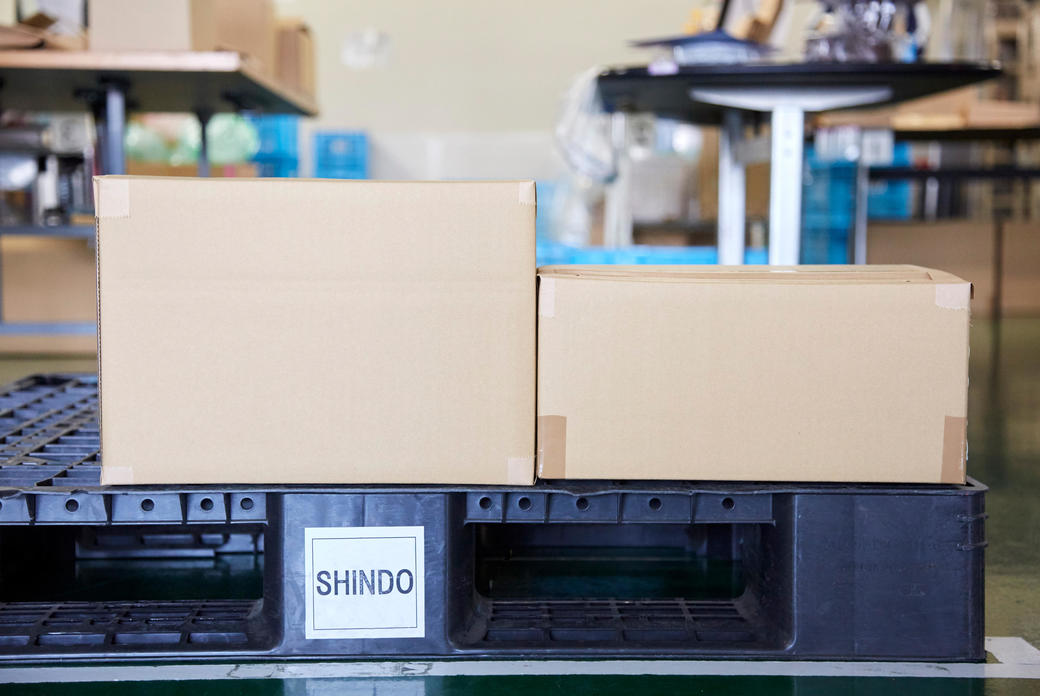 The following explains how we create benefits for customers such as the reduction of delivery costs and waste. For delivery, we use cardboard boxes with fold lines that make them foldable into smaller sizes in accordance with content. To satisfy customer requests, we choose the optimal means of delivery to reduce cost burdens. We also engage in smaller efforts such as the limiting of light inside the warehouse to areas that need it, to save energy and reduce costs for the benefit of customers.
We repeatedly check the processes of picking, sorting and packing to prevent delivery errors and eliminate wasteful packing to optimize and speed up shipment. This benefits customers in terms of both cost and time. At the same time, we value resources and try to reduce waste based on the perspective of the SDGs to make society sustainable, one of the responsibilities of a globally operating manufacturer.
---
Offer Good Service Through Communication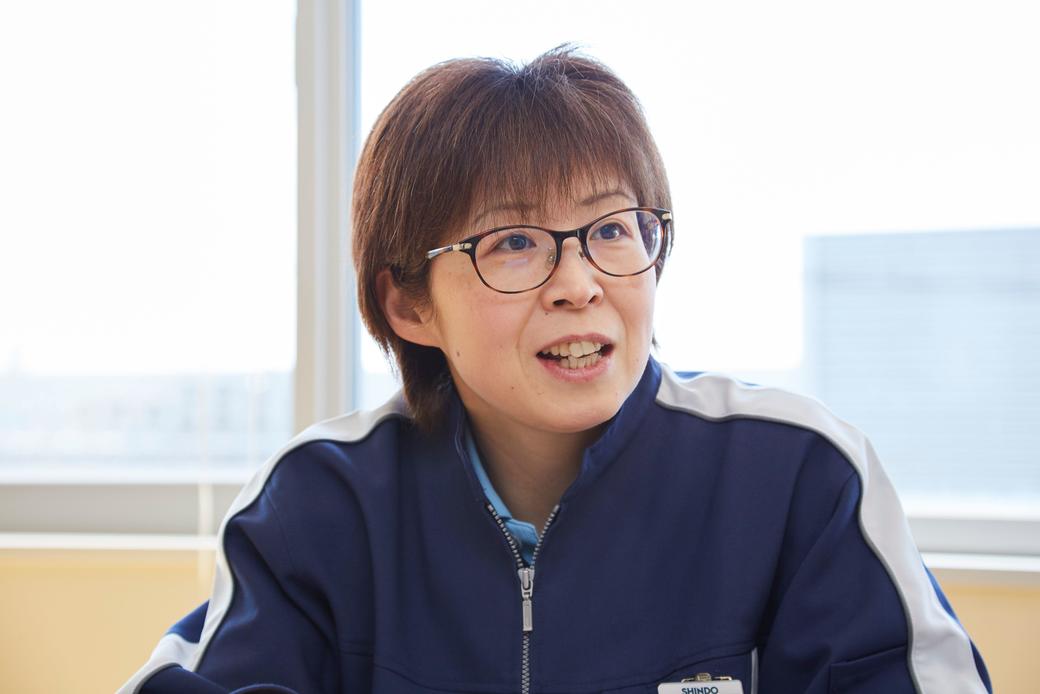 To facilitate shipping every day, the jobs of logistics cannot be accomplished without strong teamwork, which is also necessary for continued improvement of the service. The SHINDO logistics staff communicate and are on good terms with one another irrespective of differences in age. For all of my fifteen years with the company, I have experienced good teamwork. Though I am still inexperienced as a leader, I am supported by my coworkers. My motto and goal are, "One for all, all for one." In other words, each person should work for everyone and everyone should move toward the same single goal.
Each person fulfills his/her own role in his/her workplace and moves toward our common goal, the pursuit of benefits for customers. We maintain an environment where each individual fulfills their responsibilities, talks to the other employees and works comfortably. Automating all jobs does not improve all of them. Teamwork deriving from person-to-person communication can consequently create good service which brings joy to customers.
People Build Credibility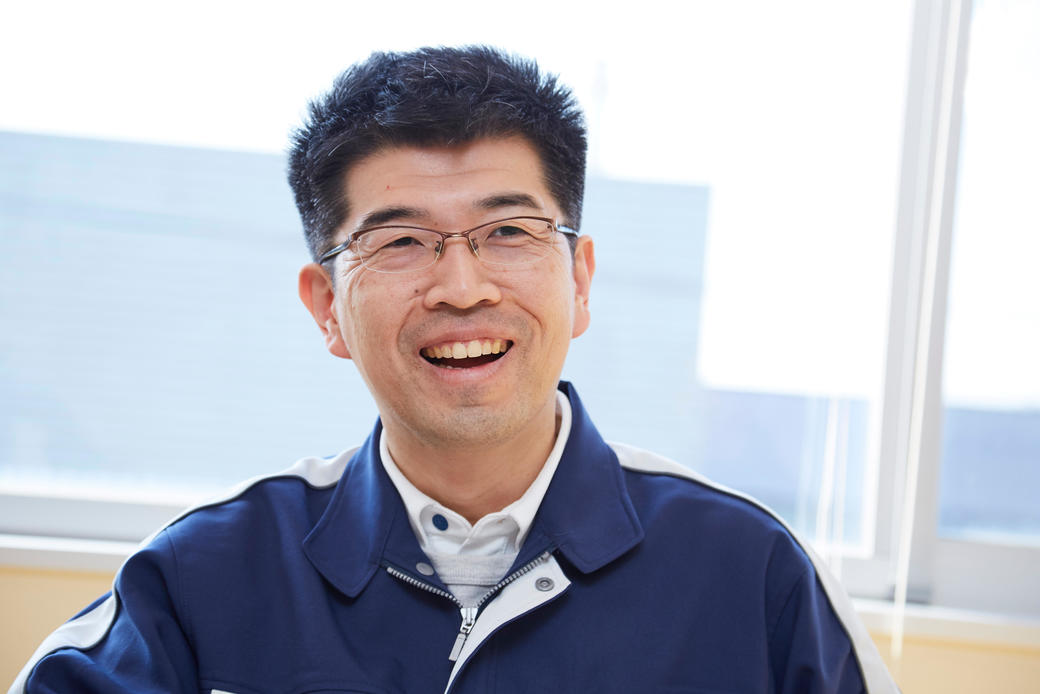 Misaki: I was impressed by the above statement from Ms. Yamamoto. As the center's director, I supervise the logistics division overall and feel that internal communication is indispensable for improvement and the exchange of opinions that enhance the quality of service and our jobs. I notice how staff take happiness from good teamwork, find it worthwhile to cooperate with coworkers and spend every day filled with a sense of their mission to deliver products speedily and correctly. Many logistics tasks are performed behind the scenes. Nevertheless, I am confident that delivering products with the belief that it will directly lead to obtaining the trust of SHINDO customers will help SHINDO gain credibility as a manufacturer.