ProductsSep 14 2020
Kyoto Montsuki, A Century-Old Dye House: From Traditional Industry to Sustainable Company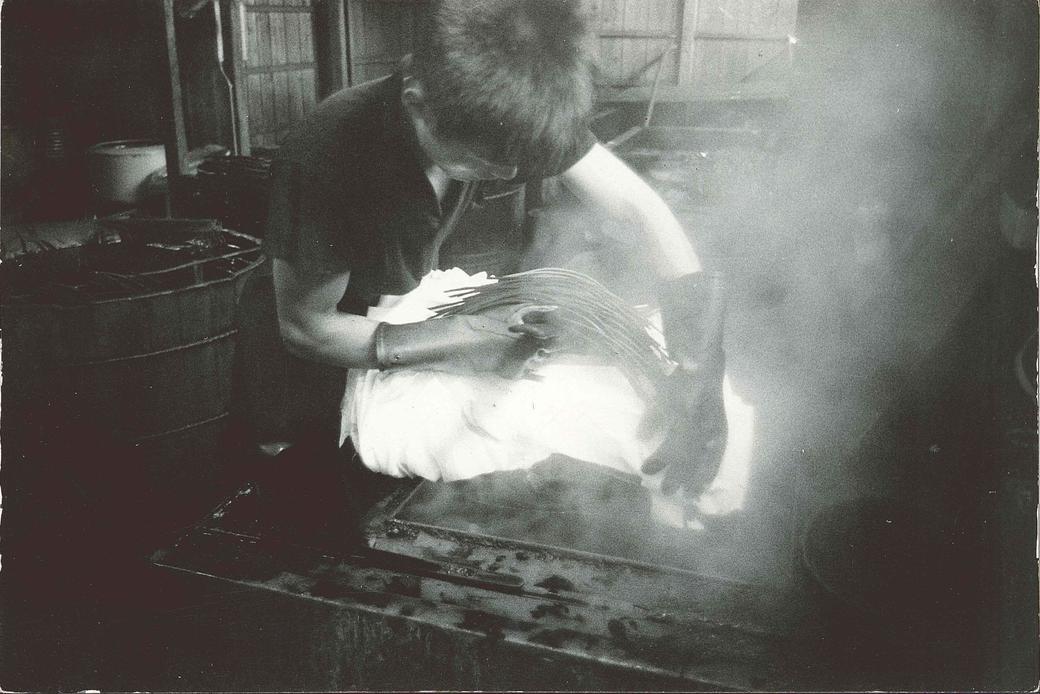 Kuro montsuki, the solid black kimono with five white crests, is the finest icon of Japanese formal attire. A dye house based in Mibu, Kyoto, which is known as the birthplace of Shinsengumi(specialized police force organized by the Tokugawa shogunate from 1863-69.)
To this day, Kyoto Montsuki Co., Ltd. ("Kyoto Montsuki") is even now committed to black dying and has produced black montsuki for more than 100 years. Their traditional dyeing technique is also used to upcycle SHINDO's original brand S.I.C. ribbons and tapes which are dyed jet black. This feature focuses on the traditional dye house has transformed into a modern sustainable company using their unmatched kyo-kuromontsuki-zome dyeing techniques.
---
Committed to Black Dyeing for Over 100 Years
Kyo-Kuromontsuki-Zome: A Traditional Dyeing Technique Using Abundant Groundwater
It is said that the kuro montsuki began as formal attire for samurai around the 17th century and then became widespread among the general public from the Meiji era. It is believed that the blacker the montsuki is, the higher the status it conveys. Founded in 1915, Kyoto Montsuki has pursued the deepest black throughout its history as a dye house.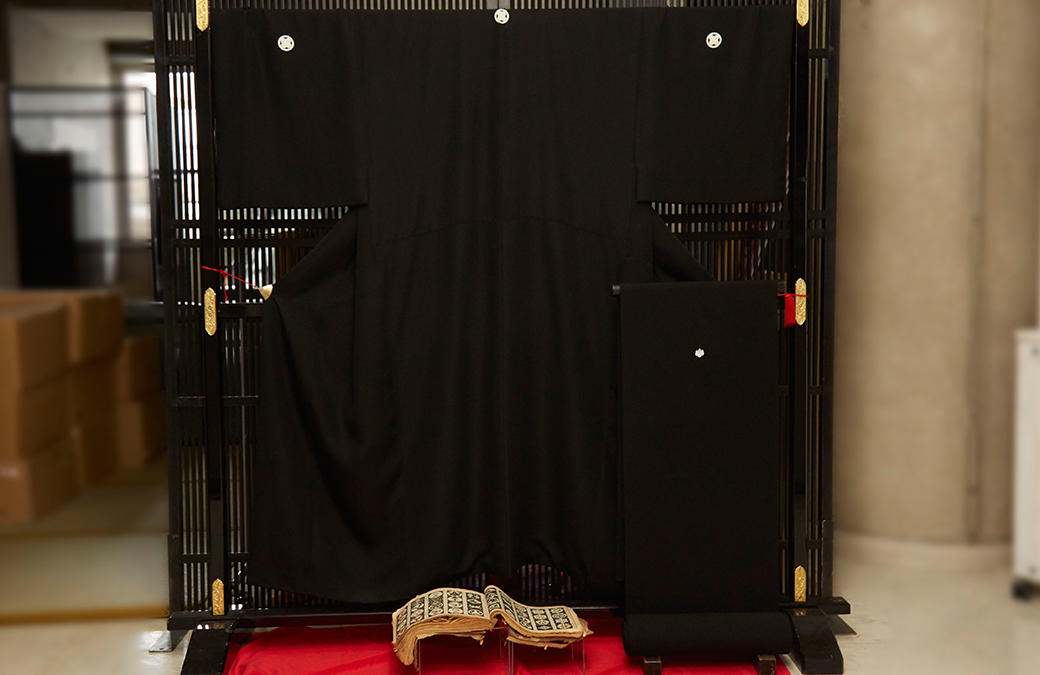 "Even globally, there are very few black dyeing specialists - they are only found in the montsuki industry in Kyoto. Specializing in black dyeing for more than 100 years, we have established a technique that achieves the deepest black. We are second to none when it comes to the depth of black," says Toru Arakawa, President of Kyoto Montsuki.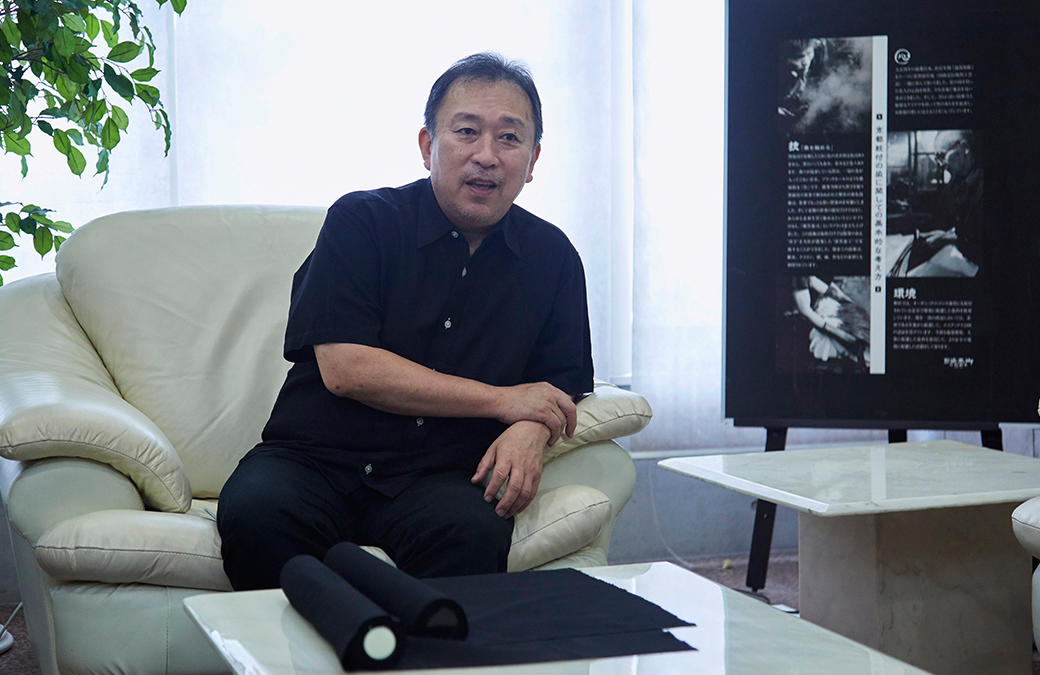 "A montsuki kimono is worn over a white juban (undershirt for kimono) and a hakama (pleated trousers). It would be problematic if the montsuki were to stain the white juban. Because there is no pattern printed on the black montsuki, the key to differentiation is how beautiful the black color is. We strive to excel in three feats: The deepest black; no color loss; and no color irregularities."
The Mibu district of Kyoto has quality groundwater so abundant that the name Mibu (currently written "壬生") was once written "水生," meaning a place where water is born. As the fabric dyed using Mibu's spring water produces great color, it is home to many traditional dye houses. Kyoto Montsuki is a long-established dyeing studio that is still in business today, producing high-quality, deep black using the area's rich groundwater.
---
Shinkuro, Deep Black Dyeing Achieved in the Relentless Pursuit of the Color Black: Creation of Soft, Eco-Friendly Fabrics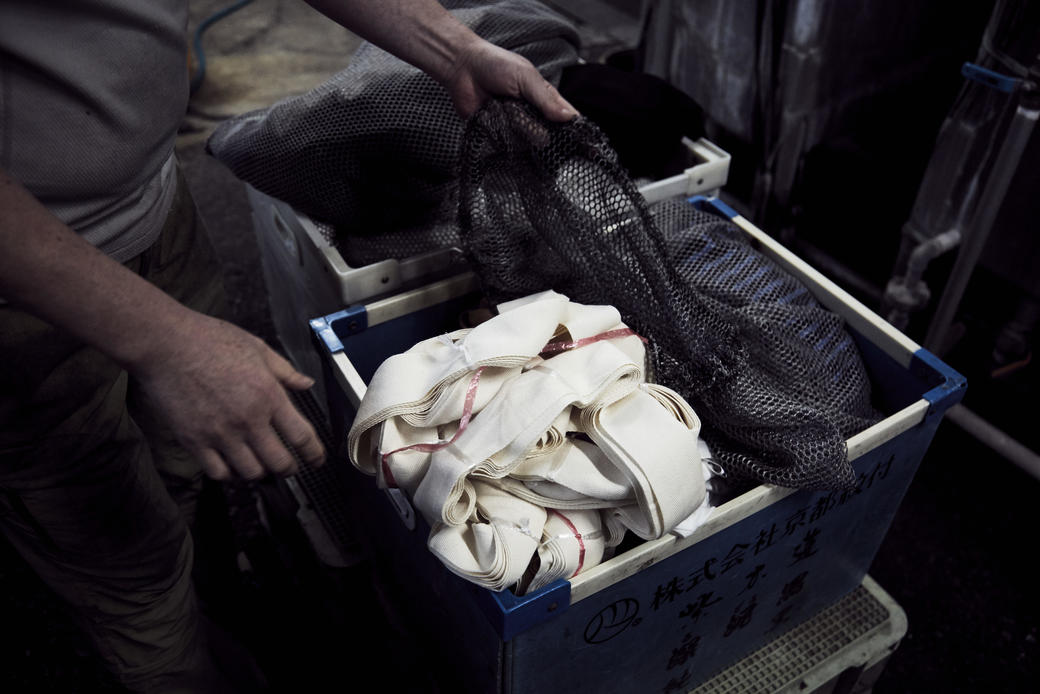 The shinkuro ("deep black") dyeing method that Kyoto Montsuki has perfected is the result of a relentless preoccupation with the color black. It is an epoch-making method that deepens the black through the use of a chemical that absorbs the reflection of light, giving it a lacquer-like gloss and depth. First, the fabric is dyed black using a reactive dye that they spent years developing. This process is very important because it serves as the base for the subsequent steps, and the blackness of the base affects the rest of the process. After reactive dyeing, the fabric is sun-dried. A dryer is never to be used as it can damage the fabric. The fabric is then dyed again, this time with a deep-black dyeing solution before being sun-dried again. Through this process, they create the same deep black of the black montsuki.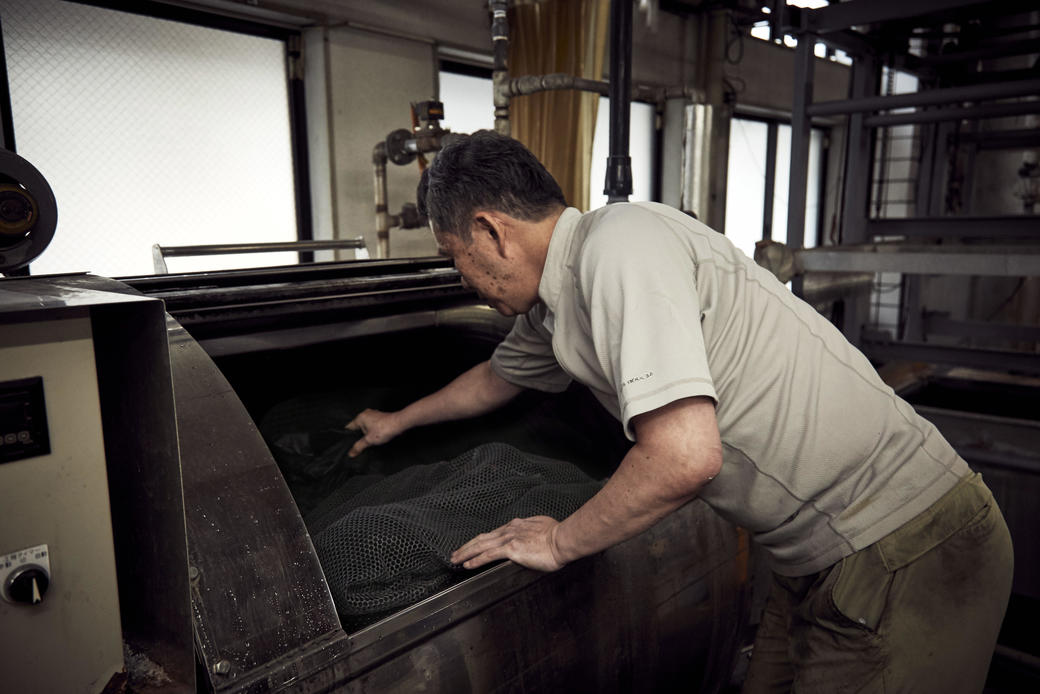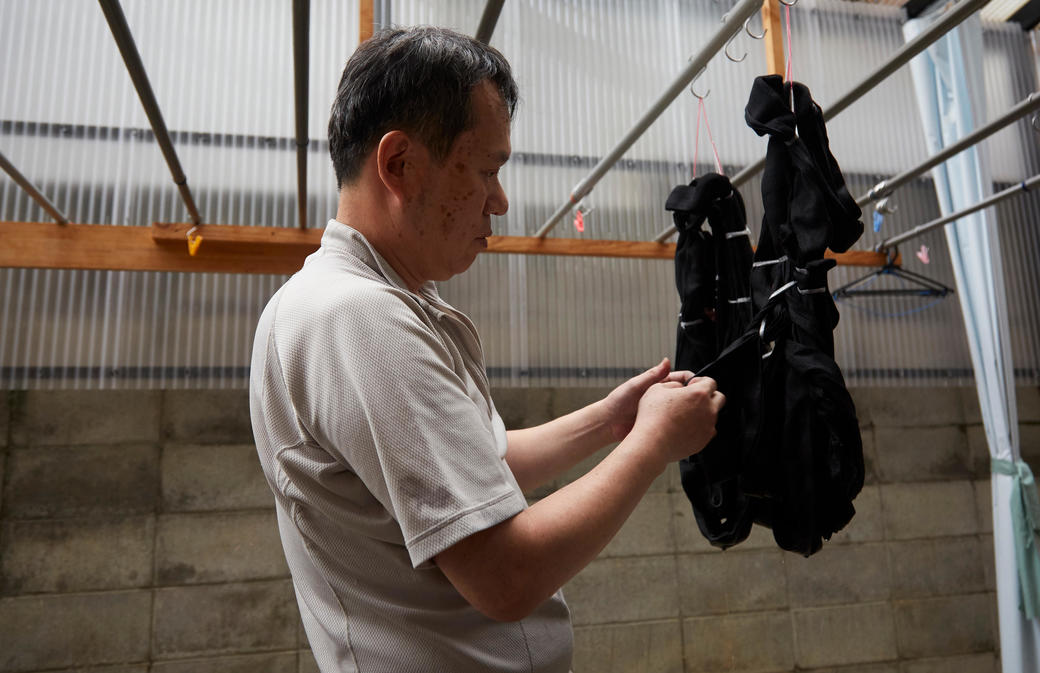 The shinkuro process has many advantages. Firstly, it lends the garment a black whose depth is unrivaled. Achromatic yet vivid, it is truly jet black. Secondly, it prevents discoloration as the dye and the fiber bind deeply at the molecular level. What makes the black blacker is not layering dyes, but instead absorbing reflected light. Thirdly, the finish remains robust yet soft. Further, as a by-product, it provides excellent water repellency, making it easy to wipe off any spills. Another big advantage is that, thanks to the use of dyes that are all safe for babies to put in the mouth as well as environmentally friendly, it gives the wearer peace of mind.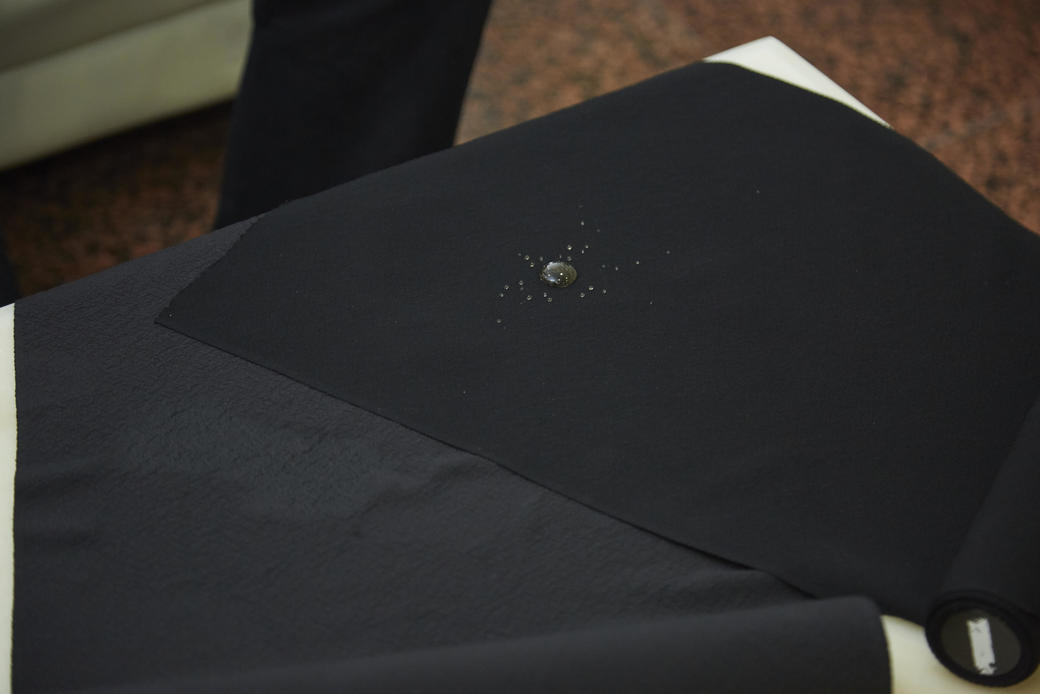 "We have developed our own proprietary machine for deep black dyeing. We had a number of positive laboratory results, but always ended up with failures on the factory line. It took more than five years before we perfected the current process, which ensures stable and high-quality performance even now."
Although the shinkuro process is more costly than conventional methods, Kyoto Montsuki has continued their own practice. With the goal of achieving the most genuine black, peace of mind, and an ability to contribute to society, their deep black dyeing process is an eco-friendly traditional technique that delivers the ultimately exquisite black.
---
From Kuro Montsuki to Modern Clothes
A New History Begins at "K" (Formerly Kurofine)
Originally developed to dye kuro montsuki, deep black dyeing is now used for modern clothes. A customer fascinated by the beauty of shinkuro told Arakawa that she wanted her clothes to be dyed deep black, which sparked an idea.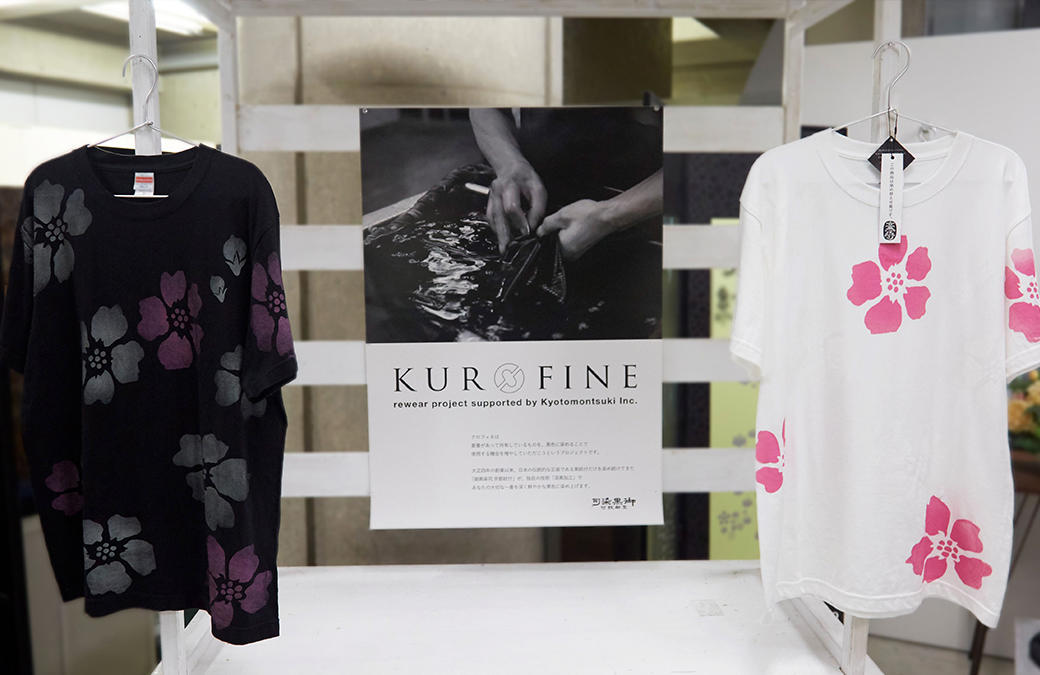 "I thought this might be an opportunity," he thought. "We launched the Kurofine webpage in 2013, to be a new business that dyes clothes deep black, and started to accept orders from general consumers."
Around the same time, Kyoto Montsuki joined hands with WWF's Panda Black Rewear Project by dyeing worn-out clothes deep black to bring new life to them. Being a part of this project for three years led the company to put Kurofine into gear.
"Today, the shinkuro technique is used for clothes far more often than it is used for kimono. However, we have never stopped dying montsuki. Without this technique, we cannot produce costumes for kabuki actors, geisha, and other traditional Japanese performers. We cannot let this art die out. We dye clothes partially because we must preserve this traditional technique."
On September 6, Kurofine will evolve into "K", its new brand, to help other companies that are currently facing hardship during the COVID-19 pandemic.
Arakawa explains that to pass on this traditional technique to future generations, they must change flexibly in response to the environment.
---
Shinkuro Dyeing Creates New Possibilities
Clothes Can Be Worn Longer
Old,stained clothes are dyed deep black, making them look brand new. The service is well received by users who are happy that their favorite clothes look good and fresh. The recent fast fashion trend has resulted in more fashion items being discarded than ever before. Shinkuro dyeing can bring life back to old clothes, making them wearable longer again, which can have a positive impact on the global environment.
Kyoto Montsuki's deep black dyeing has brought the possibility of upcycling (giving objects a new lease on life) to the apparel market, where awareness of the global environment is increasing. Second-hand clothing stores, such as 2nd Street and Mori, which are operated by Spinns, sell vintage clothing that was once unsellable because of noticeable stains but has been dyed deep black, creating a new look with higher value. Deep black dyeing works well for natural fibers, such as cotton, linen, and wool, but not for synthetic fibers. Turning this characteristic to its advantage, it gives a unique, artistic touch to garments accented by synthetic stitches. The printed portions of the fabric and synthetic fibers are left undyed, while the effect of creases can produce uneven colors. It creates a variety of looks, which gives a fresh appeal to the old garments.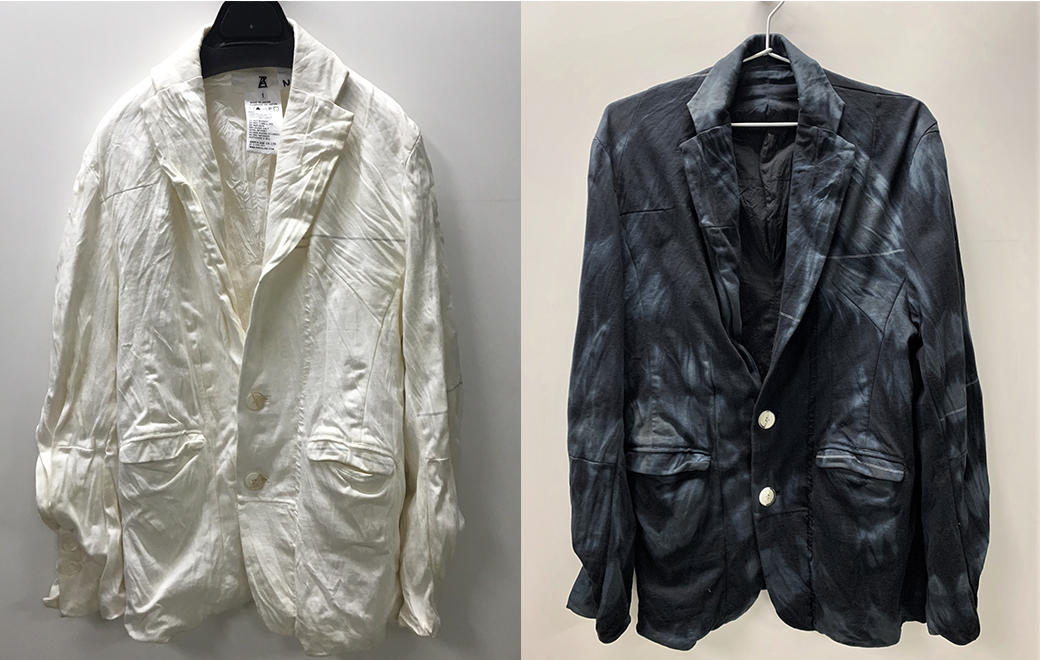 Today, the 2-way Project is under way, in which a customer purchases an item anticipating that he or she will have it dyed in the future. Scanning a QR code printed on the product tag with a smartphone enables the shopper to see an image of the dyed garment. Even if you get stains on the garment or become tired of its original design, you can transform it into a new look. The project can help the new market grow and communicate to the public the importance of wearing a piece of clothing for a long time.
Kyoto Montsuki's environmental efforts have been a hot topic, and have been featured on TV, in newspapers, and other media outlets, including high school textbooks and the New York Times. We are sure that their endeavors are a glimpse into the SDGs initiatives that the apparel industry will face in the future.
---
For the Future of the Global Environment and Apparel Industry
Kyoto Montsuki and SHINDO: The Creation of New Products
As a company that promotes SDGs initiatives, SHINDO strongly sympathizes with the philosophy and activities of Kyoto Montsuki. We have launched a new initiative to bring a second life to S.I.C. products that are obsolete or defective, with scratches or the like by dyeing them deep black. We will not discard surplus fabrics, but instead send them out to the market as new products. It is a system that provides hope for the future of the global environment.
"While many companies are struggling to figure out how to contribute to the SDGs, SHINDO works well by responding to the ever-changing environment. Because we (Kyoto Montsuki) have the same motives, we are very sympathetic to your causes."
This is the first time that Kyoto Montsuki has dyed such small parts, such as ribbons and tapes. Black is a popular color, which carries the image of expensiveness and elegance in some parts of Europe and the United States. Dyed deep black, S.I.C. textiles have been showcased at major exhibitions, such as Premiere Vision, fascinating visitors with the depth of their black. Today, deep black dyeing is widely recognized as the finest black in Japan and in the world. Introducing this traditional Japanese dyeing technique, the collaborative effort between Kyoto Montsuki and SHINDO will support the future of the apparel industry and make our dreams bigger.
Kyoto Montsuki Co., Ltd.

http://www.kmontsuki.co.jp/about/

Founded in 1915, Kyoto Montsuki Co., Ltd. is a dye house based in Mibu, Kyoto that has exclusively produced Kuro montsuki, a type of traditional Japanese formal attire, for over 100 years. From the unique perspective of a dye house committed to black dyeing through its own shinkuro dyeing technique, it has strived to develop a new markets, drawing great appreciation from the industry. Kyoto Montsuki is a world-class dye house with extensive history, specializing in deep black dyeing.