TechniqueMay 29 2020
Quality Control: Quality Testing Division Established in Factory
Speedy Action to Supply High-Quality Products
SHINDO set up a testing division within its factory and rigorously controls its product quality every day. To this end, we visually inspect grade and test performance, based on product specifications, including design drawings that specify raw materials, manufacturing flow, standards, notes and other information about the product. We measure the widths of ribbons and tapes and check the number of stitches per inch to ensure that a product satisfies the predetermined standard. Masashi Naito and Kiyoshi Yoshida, who are respectively the manager and leader of the Quality Control Department supporting the manufacturing practices of SHINDO, talk about the job of quality control necessary for securing SHINDO quality.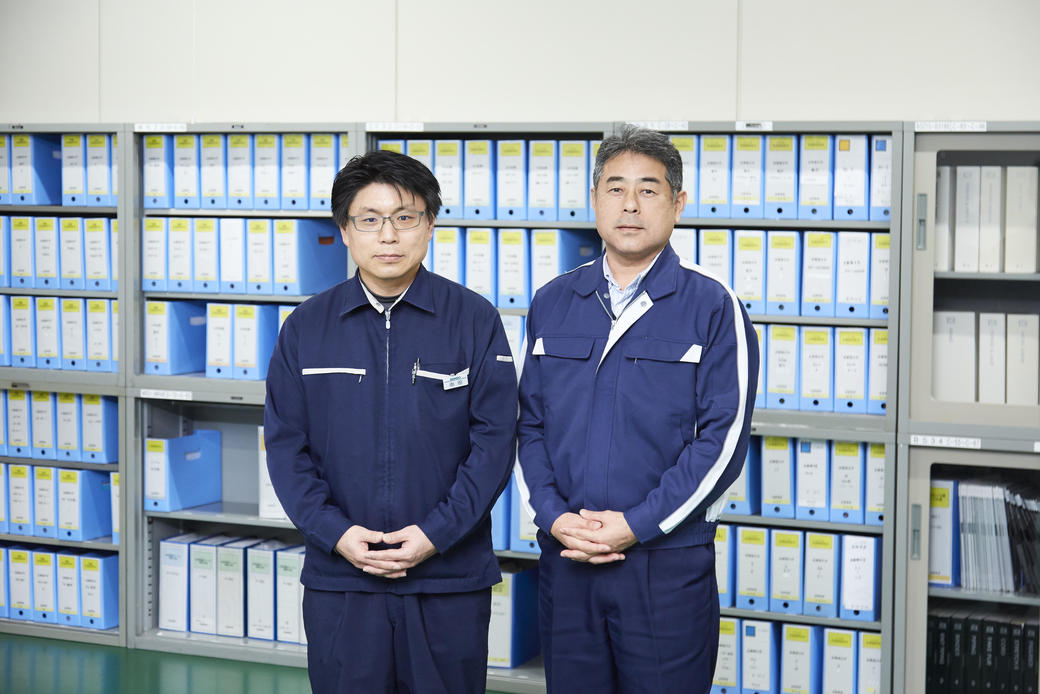 ▲From left in the photo: Kiyoshi Yoshida, leader, and Masashi Naito, manager of the Quality Control Department
---
SDS, the QC Standard Unique to SHINDO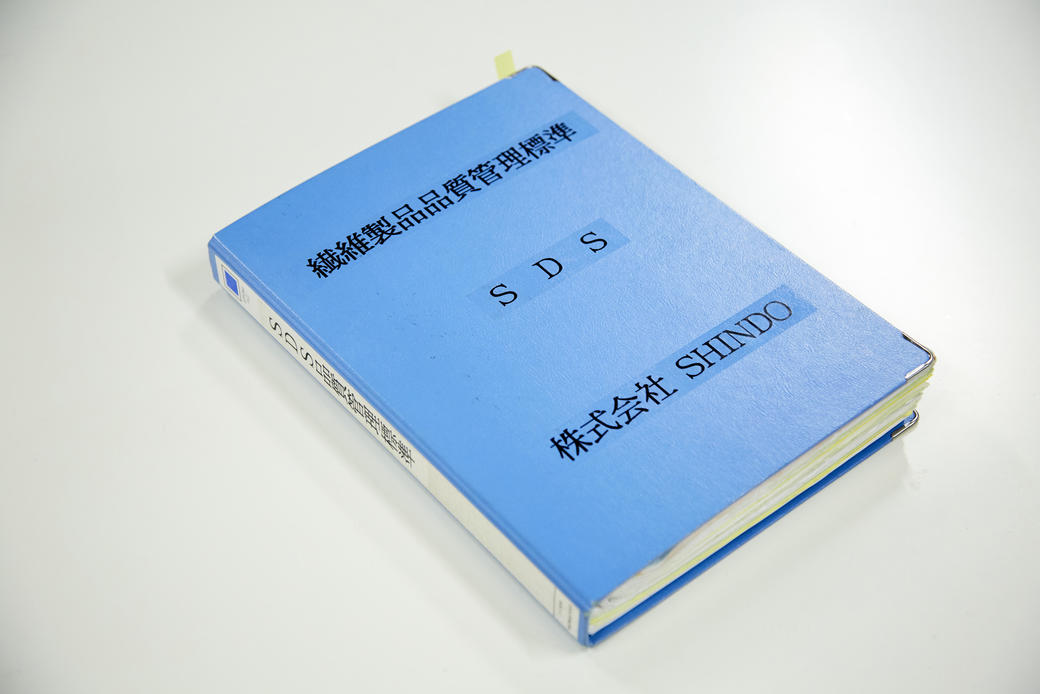 ▲SDS, the quality control standard for our textile products
Like specifications, it is necessary for the quality control staff to share an understanding of testing criteria to ensure consistency in product quality. Our materials are expected to have more than just aesthetic beauty. We must accurately judge that a product is qualitatively good enough to withstand the environment in which it is to be used. To ensure this, SHINDO has its unique core standard, SDS.Customer requests and information about their product usage are received and collected to define our testing standard, SDS. In line with the standard, our original S.I.C. ribbon is manufactured, and quality is maintained. Depending on its usage, a product may be required to be functional and durable in many different ways. In particular, each of our custom-ordered products is expected to satisfy a specific standard based on the needs and usage of the specific customer. Through repeated inspection and regular testing, we ensure the quality of products. To consistently deliver high-quality products, we are committed to building credibility with many different customers through our manufacturing that advocates our original standard while remaining conscious of JIS and ISO.

---
Judgments Made Quickly at Manufacturing Sites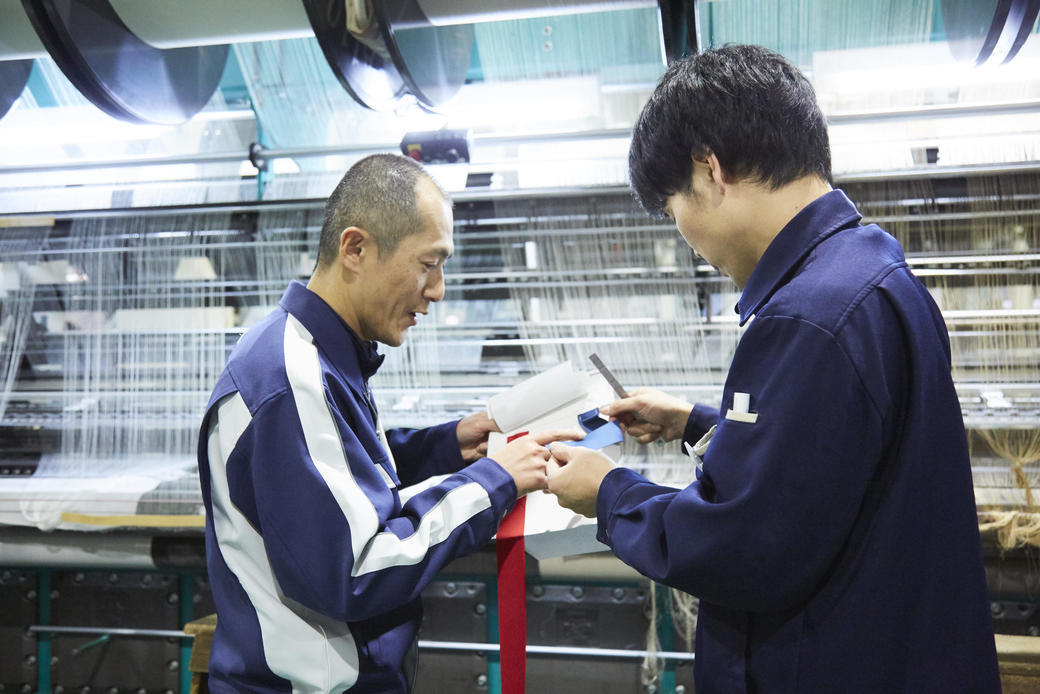 The Quality Control Office is in a corner of the test area inside the factory. Located in the compartmented area are many different machines to determine the robustness of products and their colors. We also check that the results of a test are within the tolerances specified in SDS, SHINDO's own testing criteria. After being brought to the Quality Control Office, samples undergo a quality inspection the same day. In addition, our mass-produced products undergo a durability inspection. Inspecting basic items for the management of mass-produced products takes one week or less, while prototypes and other products that involve a wide range of evaluation items take one or two weeks. I check the products that do not meet the quality standard in detail at the manufacturing site and explore ways toward improvement with the staff. For prototypes and similar products, the staff of the manufacturing process may bring a sample to the Quality Control Office to seek advice. Professionals from different departments can easily consult and communicate with one another because the Quality Control Department is located inside the factory. We have an environment where both the manufacturing staff and test staff exchange views and cooperatively pursue new heights in manufacturing based on each other's perspectives, so that we can live up to the trust of our customers. This is the environment in which SHINDO products are made. As quality professionals, we check each and every product steadily and carefully to ensure that we can feel confident and secure about putting the completed products out into the world.
---
Application-Based Quality Testing Using Machines Inside the Factory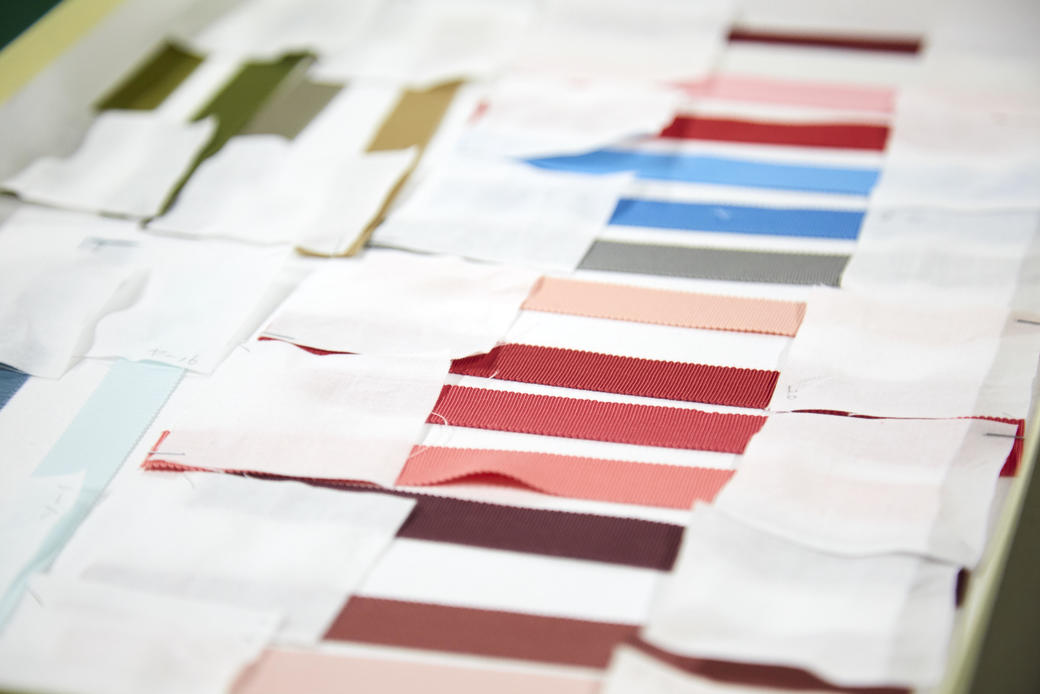 We use machines to conduct durability and physical property tests to check the quality of products. Durability tests check a product's color stability, which may depend on factors such as the degree of change in color, discoloration and color staining. Water tests and sweat tests are designed to determine the degree of change in color, discoloration and contamination of clothes worn in a wet state due to rain, sweat or other causes of moisture. Laundry and dry-cleaning tests check for changes in color and discoloration of clothes being washed, or the colorfastness of textile products. Sublimation tests determine the degree of change in color, discoloration and the contamination of a product being stored in a warehouse. Friction tests determine the degree of contamination which may occur from friction of clothes while being worn or cleaned. Lightfastness tests are a basic form of testing and determine the degree of change in color and discoloration and a product's resistivity after exposure to sunlight.This is combined with shrinking, which occurs from heat, vapor, laundry and other causes, and with property evaluation tests to identify the product's physical properties such as the strength and fuzz of a product. This process is used to determine if products meet the SDS standard.
▼Laundry testing machine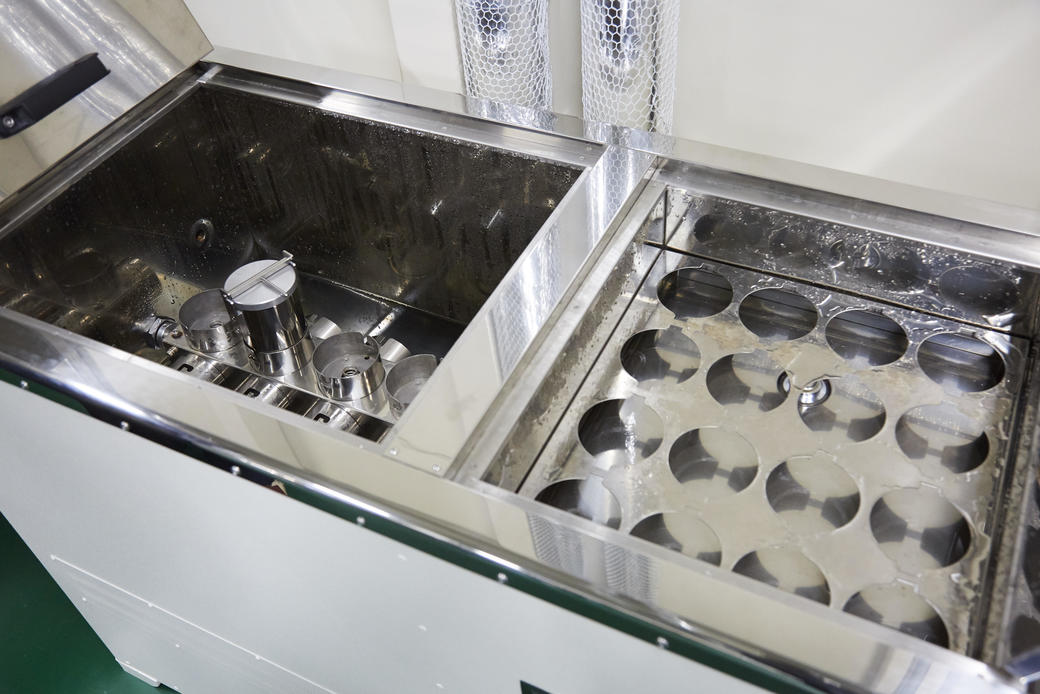 ▼Sublimation testing machine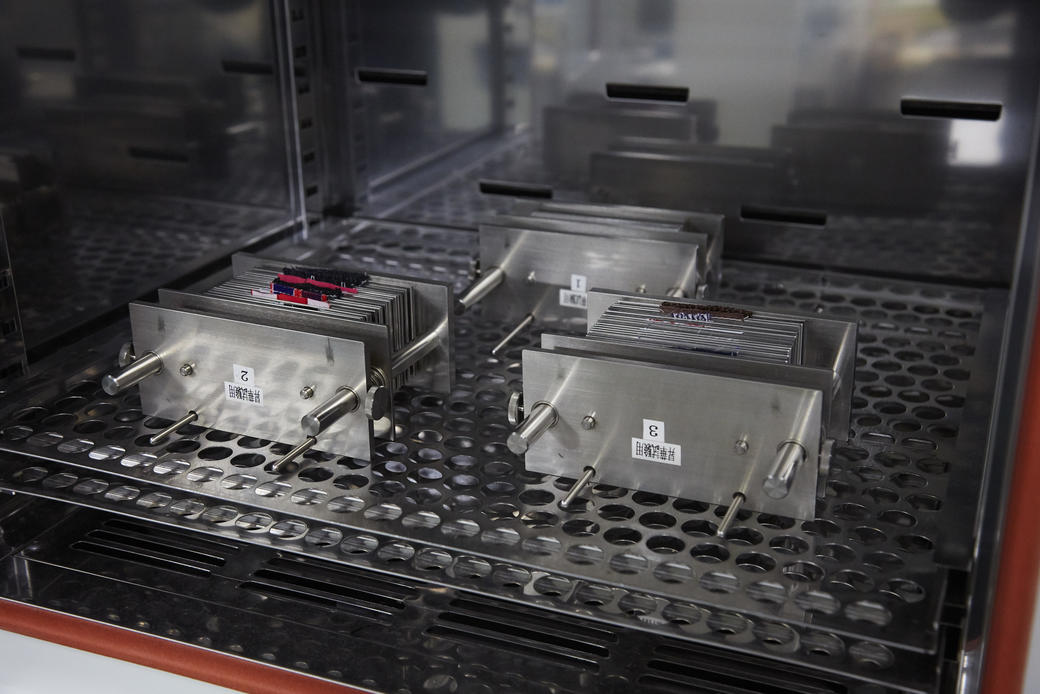 ▼Friction testing machine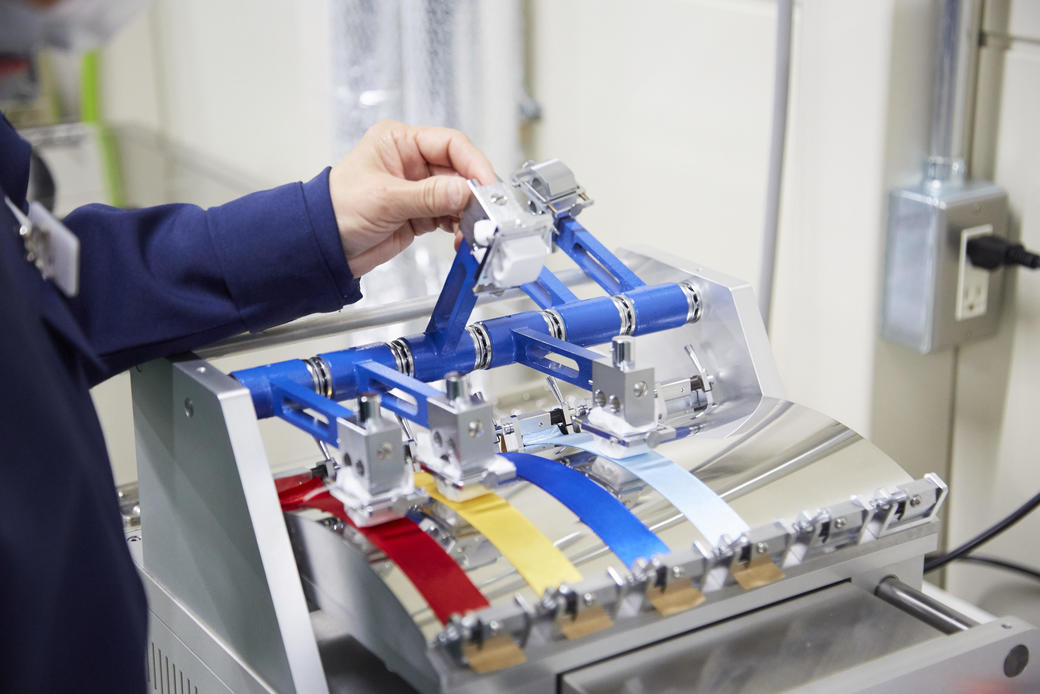 ---
Utilizing Quality Control Data to Develop Our Next Product


▲Kiyoshi Yoshida, leader of the Quality Control Department
Yoshida:SDS is the foundation of SHINDO products and, in a sense, helps to make quality-related judgments. In another aspect, it also serves as criteria for planning products. We can create unique SHINDO products while utilizing our accumulated expertise and data for the benefit of customers. This is the strength of a company with a long history and forward-thinking perspective in global development In the future, I will meet more customers face to face, directly listen to their needs and leverage our knowledge and experience to improve the quality and performance of our products. Also, our manufacturing will increasingly address the need for sustainability and will flexibly and quickly adapt to the ever-changing trends of the industry.
We Aim to Ensure that SHINDO is Trusted Around the World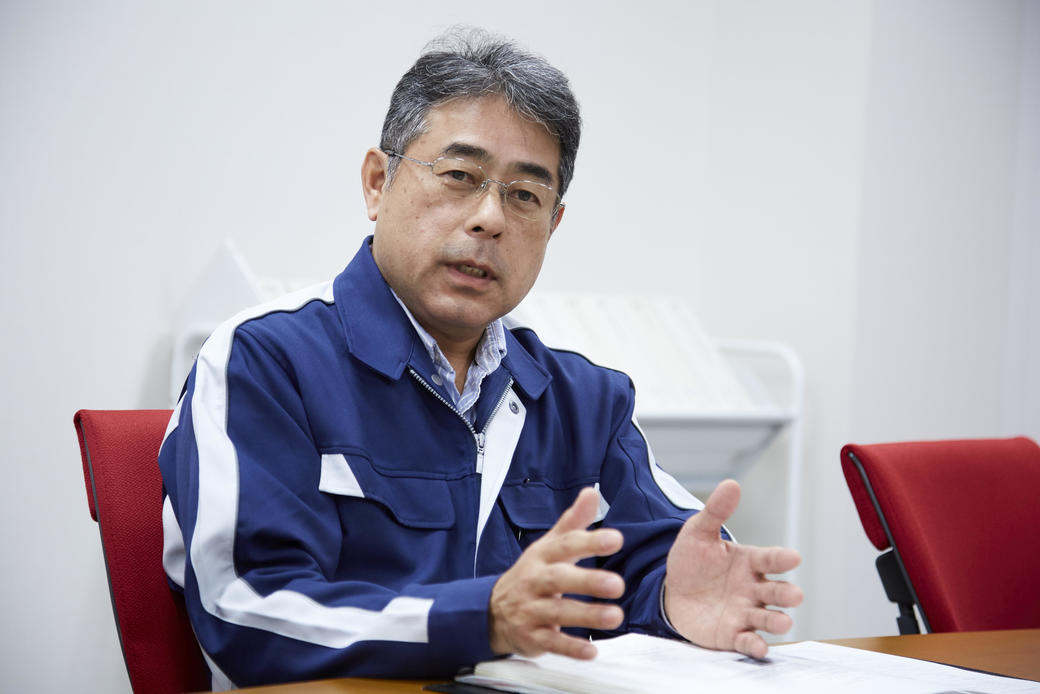 ▲Masashi Naito, manager of the Quality Control Department
Naito:All of our staff wish to ensure that our customers feel secure using SHINDO products. Our production, quality control, planning and sales staffs work together as one to satisfy customer requests and their demand for consistent quality. We discuss the addition of evaluation criteria to address the increasing demand for environmental responsiveness. Furthermore, we remain conscious of our status as a global enterprise and strengthen our efforts which are adapted to many different countries and companies. We consider ourselves to be the last bastion for the maintenance of SHINDO quality, which we are proud to display to the whole world.