EventNov 21 2019
TOMO KOIZUMI, Expressing Feelings of Gratitude Through Ribbon at New York Fashion Week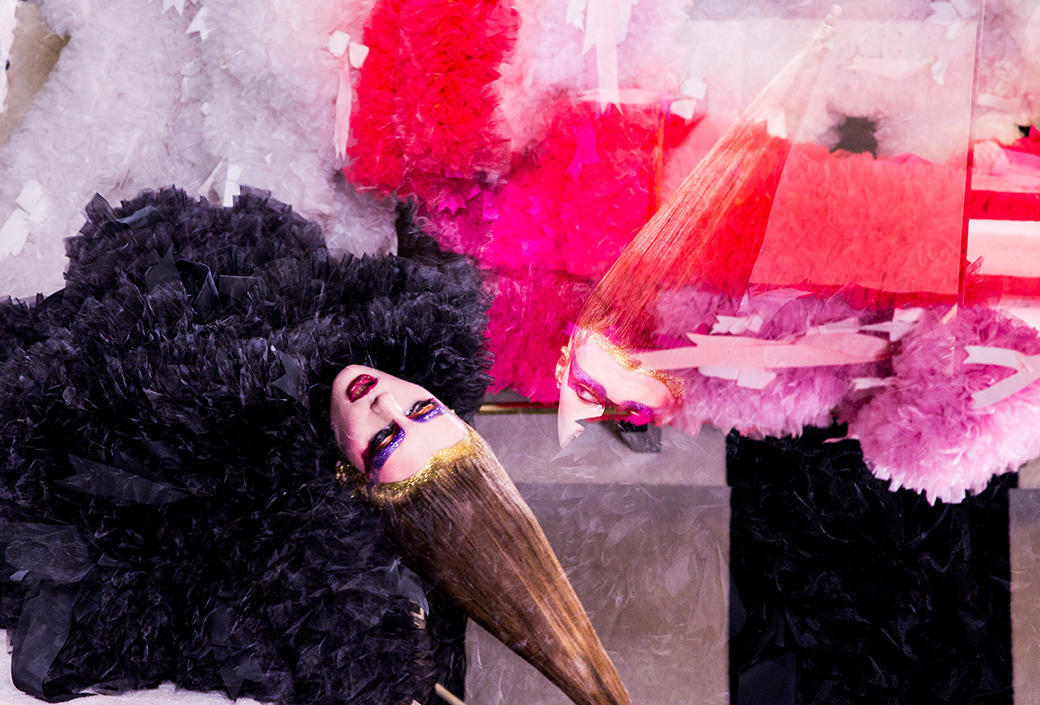 TOMO KOIZUMI, discovered by top stylist Katie Grand in February 2019, executed a debut at New York Fashion Week. The feminine, colorful dresses made from multiple repeated layers of organdy ruffles are simply works of art. From the moment of his debut, the venue was filled with elation, making the hearts of many pound with excitement. He once again presented seven looks at the Marc Jacobs flagship store in New York on September 6, 2019. SHINDO's S.I.C. was used for all of those dresses. We spoke with Tomotaka Koizumi, the designer behind the TOMO KOIZUMI brand, about this collection, the features of S.I.C. from a designer's viewpoint, and about the designs he himself strives for.
---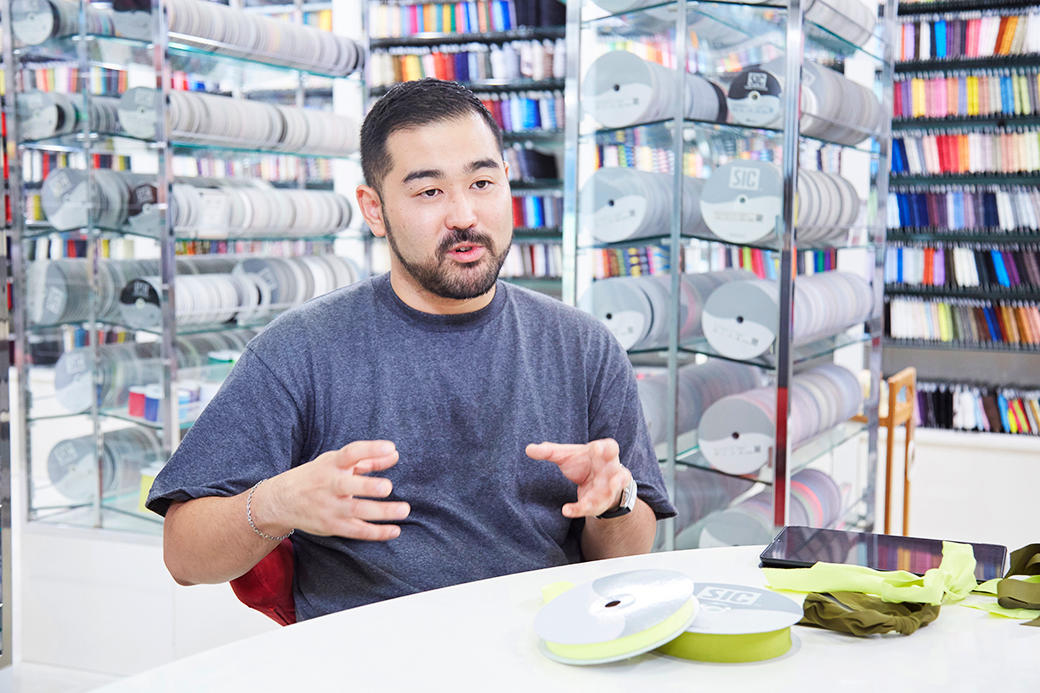 Q: Tell us about the theme for this collection.
The theme was gifts. I set large ribbons made from ruffle frills and small ribbons made from grosgrain ribbons, which feature delicate ridges, into the dresses, and I designed the dresses to have a splendor as if made from gift wrapping. What I created for New York Fashion Week was something like a dream. I had a great sense of having had things done for me by the professionals around me, rather than a sense of having done something on my own, with many elements that I didn't expect. For these works, I incorporated my feelings of gratitude towards Katie, who worked hard to open the show, and all the people who offered me this wonderful chance.
Q: All seven looks presented this time used SHINDO's S.I.C. Can you tell us why you decided to make use of this material?
When I exhibited my work at the Resource Center of Bunka Fashion College, the head of the Center, Ms. Ueda, told me she would introduce me, "to a ribbon and trimmings manufacturer called SHINDO". My first encounter was by chance, when I greeted a PR supervisor who came to the venue of a hobby show, but even before that I had heard about a showroom in Harajuku carrying many lovely ribbons, and so I had hoped to use them if I had the chance. Since I met the PR supervisor just before beginning work on this collection, I quickly went to the showroom, and I remember being excited by the scene of the multicolor ribbons lined up side by side.
For example, if I searched for yellow, there were a variety of colors that had been categorized as "yellow" with slight color variations. I asked if I could use these ribbons because the ever so subtle color variations appealed to me.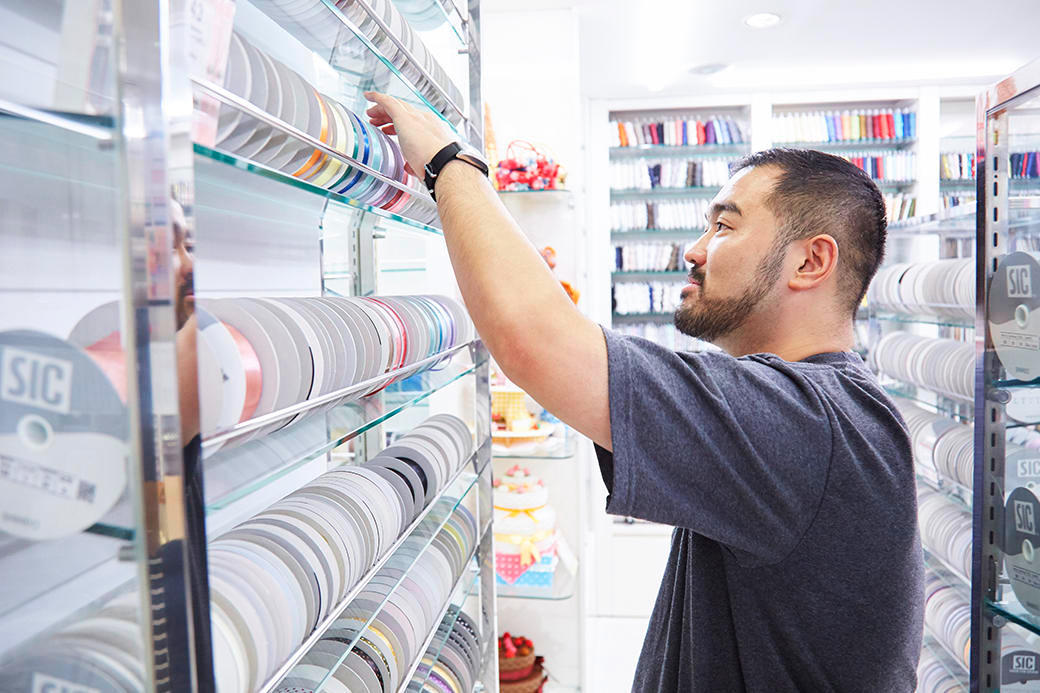 Q: So, the abundance of colors for S.I.C. is what led you to decide to use them, right?
One of the charming aspects of TOMO KOIZUMI is colorful colors, and the variety of S.I.C. colors stimulated my senses. But making use of the beauty of a color requires more than just color, the tone becomes an important aspect as well. Overall color harmony can be achieved if the colors have the same tone, even when combining colorful colors, and so I was drawn to the relaxed tones of S.I.C. as they seemed like they could be used as unobtrusive accents on dresses.
The grosgrain ribbon I selected for this collection has an elegance to it and is very feminine. I felt like it would not pale in comparison even if used as decoration on a voluminous waffle dress. I thought the fact that the ribbon had a reasonable resilience to it made it easy to use, as I process materials with my own techniques based on my insight and senses in the moment during the process of completing a dress.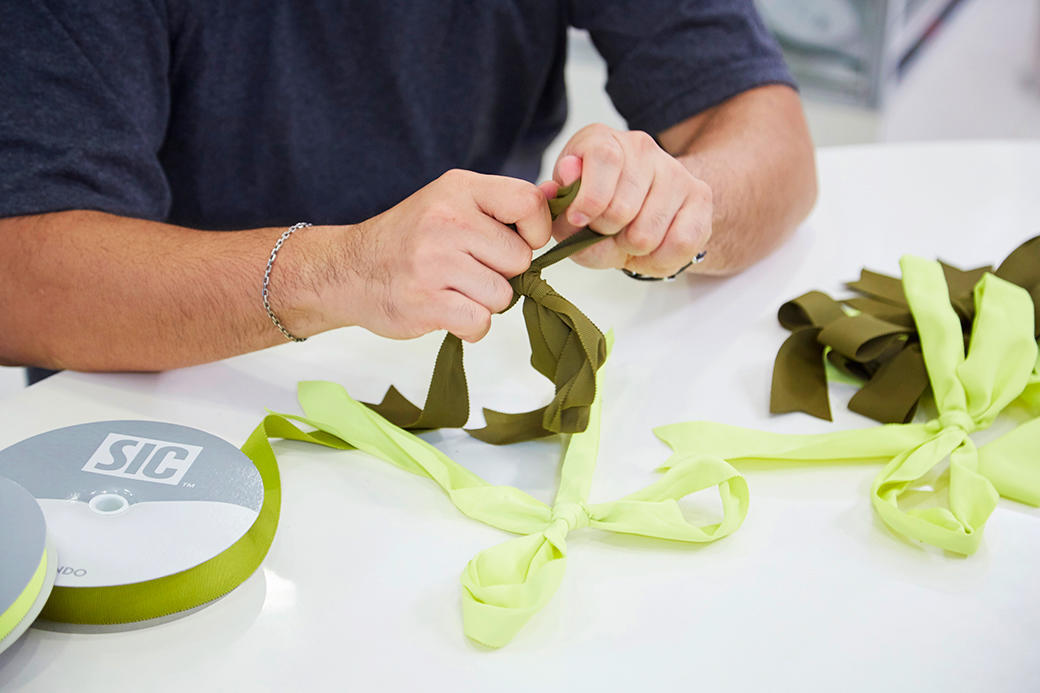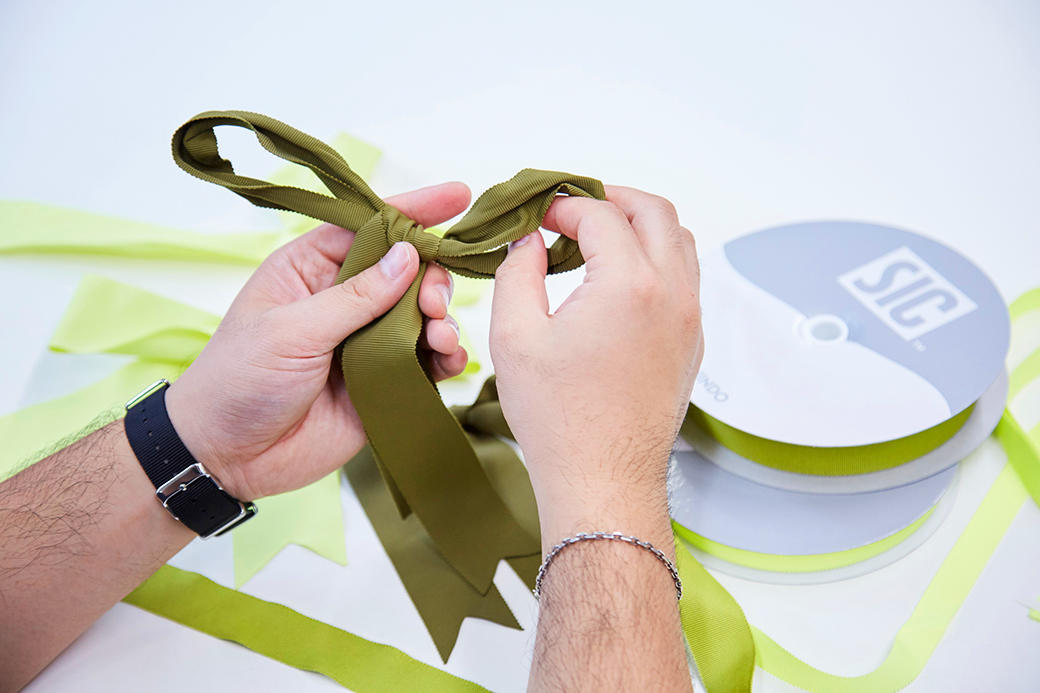 Q: How did you use S.I.C. specifically?
I set many ribbons made from S.I.C. all over the dress. Adding iconic ribbons made the dress seem suddenly very complete. Excluding monotone dresses, I used three to four color gradations of the same hue. I used 60 to 90 meters of ribbon for each dress, as I added many through the finishing process, each time thinking, "I want a ribbon here".
I wanted to show an exciting elegance and volume, so I used thick ribbon with presence, allowing someone to know it is ribbon even from far away. I purposefully had the ribbons wrinkled so that they wouldn't look contrived or obtrusive. The ribbon wrinkling wasn't something that I had considered from the start, but I felt that I wanted to add a texture that adapted to the waffle dress, so I added textures as I went along.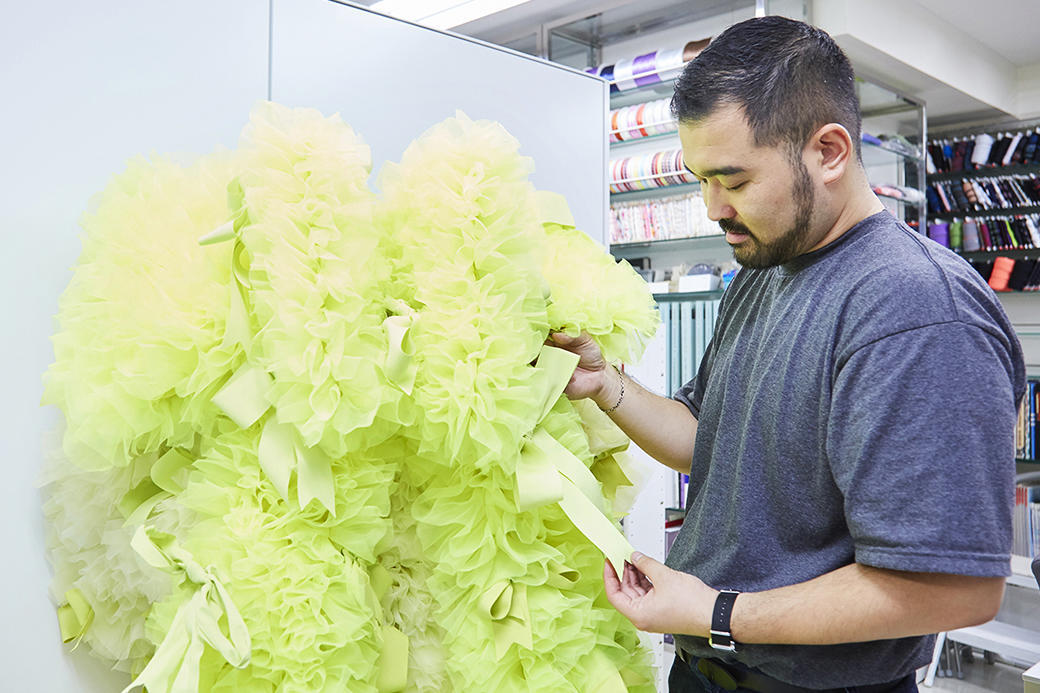 Q: The grosgrain ribbon shows a new kind of expression, doesn't it? You aim to improve whilst developing your techniques even during the creative process, so tell us about your creative preferences.
As an apparel designer, I want to show apparel in interesting, new ways even with familiar materials in the TOMO KOIZUMI style. As TOMO KOIZUMI works are not meant to be worn or sold, there is a timeless quality that isn't subject to trends. To that extent, because I present to the world works that do not fade, I am always conscious of the development of new techniques.
In general, I only create works that I receive an order for, because I consider the goal of creating works that will last forever as something sustainable that a designer can do. I think you can say that this is also one of the preferences of TOMO KOIZUMI.
Q: Tackling sustainability as a designer. That's pretty amazing. With this preference, did you use S.I.C. that had been discontinued through product overhauls for this collection?
I looked at, and felt the textures of a variety of ribbons at the showroom, and all of them were satisfactory in terms of colors, texture, and variety of widths. Discontinued products were also high quality. I thought that as I was using these materials, it would be good if I could contribute from a sustainable approach, so I asked and was shown discontinued ribbon. Indeed, I discovered amazing colors, and so I breathed life once more into the discontinued ribbon, resulting in the ideal process of luxuriously using the ribbons for one-of-a-kind items.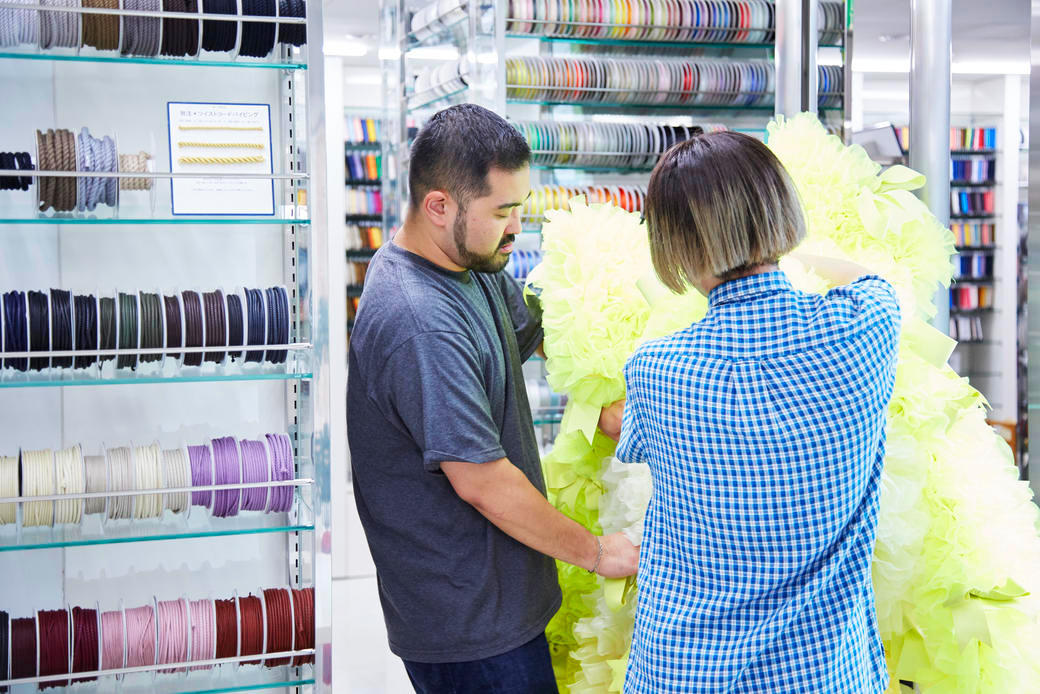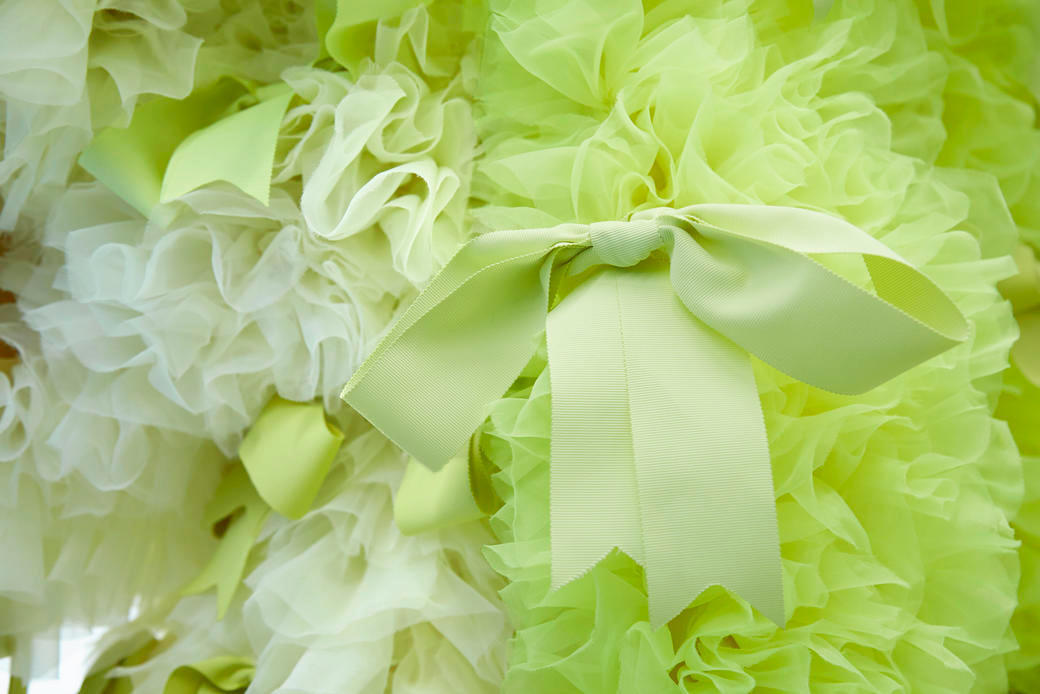 Q: Finally, can you tell us a little about the future that TOMO KOIZUMI is aiming for?
I want to continue to create new expressions and designs through my own techniques. As TOMO KOIZUMI's designs are not creative works aimed at being sold, the apparel isn't the kind that is delivered to general consumers. Still, I want to carefully create apparel and send them out to the world, allowing the people who actually see the clothes at shows and those who see pictures of my work to get excited and feel a sense of joy. I would also love to make apparel using S.I.C. again if the chance arises.
Finishing the New York Collection
Tomotaka Koizumi's Story:
Unlike the 30 years of preparation I had for my first ever show, I only had 6 months to prepare for this collection, and so it was emotionally difficult with a lot of pressure.
But I feel relieved now, as I was able to achieve success thanks to the support of many people.
The performance showing dressing and undressing scenes that paid homage to the dressing ritual of traditional clothing, and the new initiative incorporating dance to express the character and story of each dress were both well received. I gained self-confidence by receiving many compliments and words of encouragement after the show. I want to continue freely expressing myself without forgetting a sense of gratitude so that I can impress via the TOMO KOIZUMI worldview.


Click here for a glimpse behind the scenes of the 2020 Summer-Winter New York Collection
Related Articles: https://www.vogue.co.jp/tag/tomokoizumi
Click here for details about the October 2019 Tokyo show where this collection was presented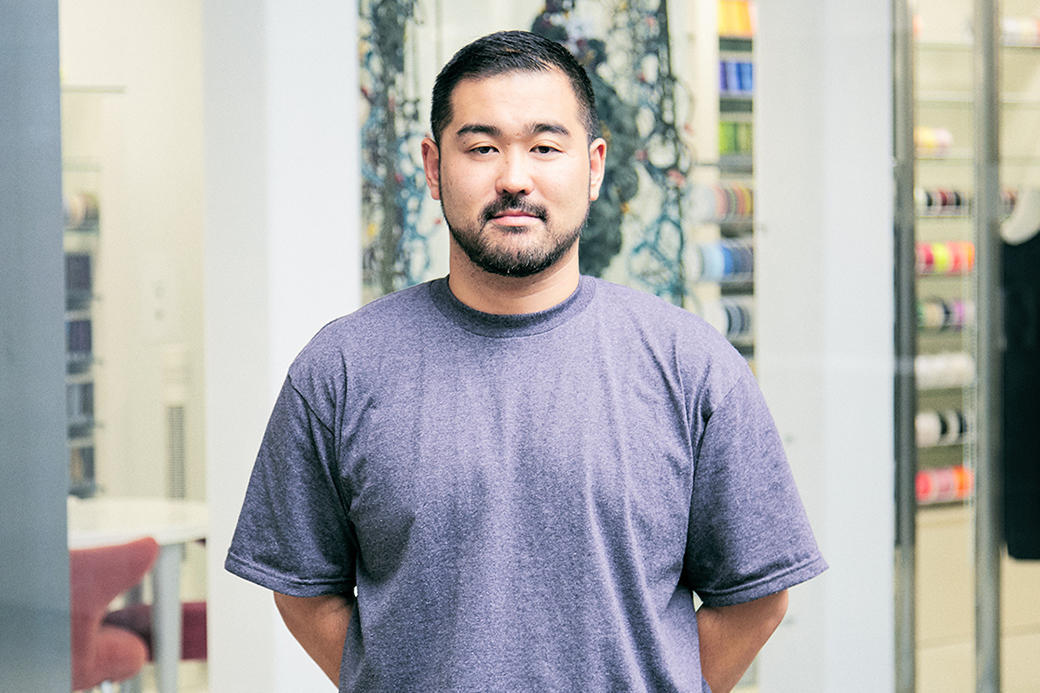 ■Tomotaka Koizumi:

http://www.tomo-koizumi.com/

Designer for TOMO KOIZUMI. Fascinated with John Galliano's Dior collection he saw in a magazine at the age of 14, he began studying on his own and making clothes. He started his own brand while at university, overseeing the wardrobes of a variety of musicians, including Perfume, DREAMS COME TRUE, and YUKI. He awarded

The 2020 LVMH Prize

.He is gaining fans worldwide with his fresh designs wrapped in fantasy charm.