ProductsJan 12 2021
A modern doll that attracts attention from the fashion industry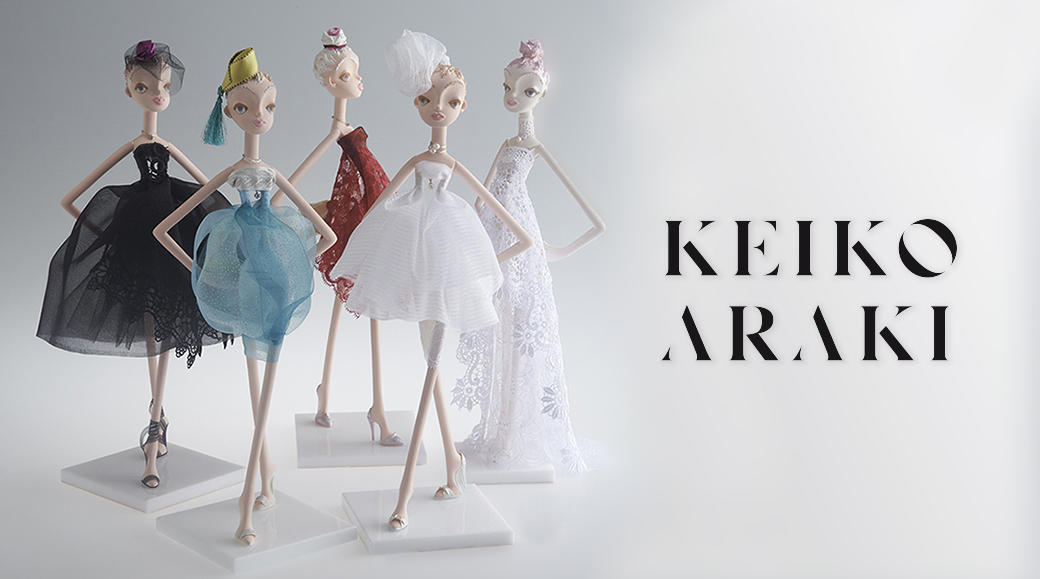 Keiko Araki, a doll designer who excites the hearts of many fans with her unconventional style and collaborative works with artists. A beautiful modern doll with a unique worldview that incorporates mode sense, features an oriental look and slender limbs. Araki's work joined the collection of artistic director Alber Elbaz in 2010, and has attracted attention from the fashion industry in Japan and overseas.
---
From flat design to 3D art. An inexperienced, self-taught new expression.
The doll also has an aura. This is what came to my mind when I saw the work close. High artistic quality that sets it apart from the "dolls" that I have touched on so far. Even the details of small items are beautiful, and it makes me want to look at it forever.
I'm sure he had a great teacher and when I asked him how he became a doll designer, "I'm self-taught. When I asked myself what I really wanted to make in my life as a creator, I started to want to make something that I felt beautiful or cute with 3D modeling." As a creator who sensuously visualizes inspiration with her own hands, Her unique approach and enthusiasm for production are the true nature of the aura that Ms. Araki's work emits.
---
I don't want to make something that I saw somewhere. I want to create a work that no one has ever seen.
"Anniversary dolls" such as birthday dolls with birthstones attached to dressed up dolls, wedding dolls tied up with wedding brands, and premium dolls that are unique in the world. In addition to that, works that have been collaborated with craft artists and sublimated into original art by combining different materials have also been announced. To express it in one sentence, "a doll work that I have never seen before". The body balance and facial features that are characteristic of Araki's work, and the style of hollowing out the body also shine with impact and originality.
"I didn't want to make something that I saw somewhere. I wanted to create an impressive work that no one had ever seen. The hollowed out body was the lightness and inner beauty of an independent woman. It is also an expression of Ms. Araki's thoughts in the dignified expression of the dolls.
---
God dwells in the details.
What is the most important to express femininity?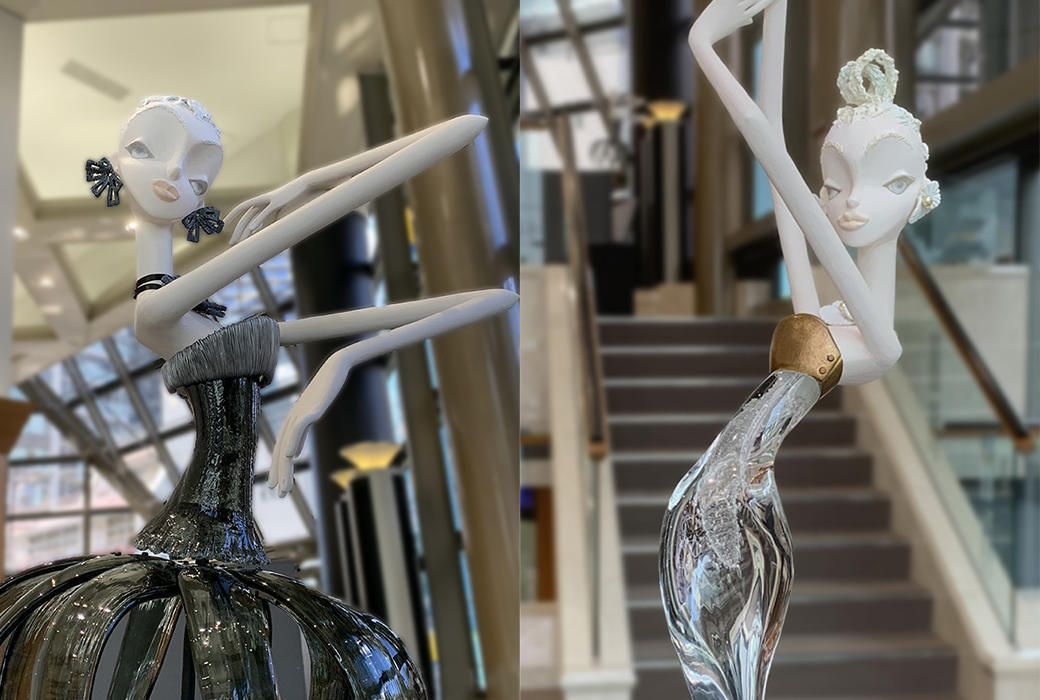 There is a feminine atmosphere due to the curve but if you look closely, the body line is straight. When thinking about why it feels so soft and sensual, she says, "I am particular about the expressions of my hands." Certainly, all the expressions of the hands are different. The graceful hands up to the fingertips, combined with a warm matte texture, which are about to start moving.
"Hands are more nerve-wracking than faces because they show the person's personality and beauty of their actions. Even a millimeter difference can change the impression, so it sometimes takes three days to make one hand."
In fact, many fans say that they are attracted to their hands, and it seems that they are the most important parts.
---
A visit to the showroom was a catalyst for establishing the current style.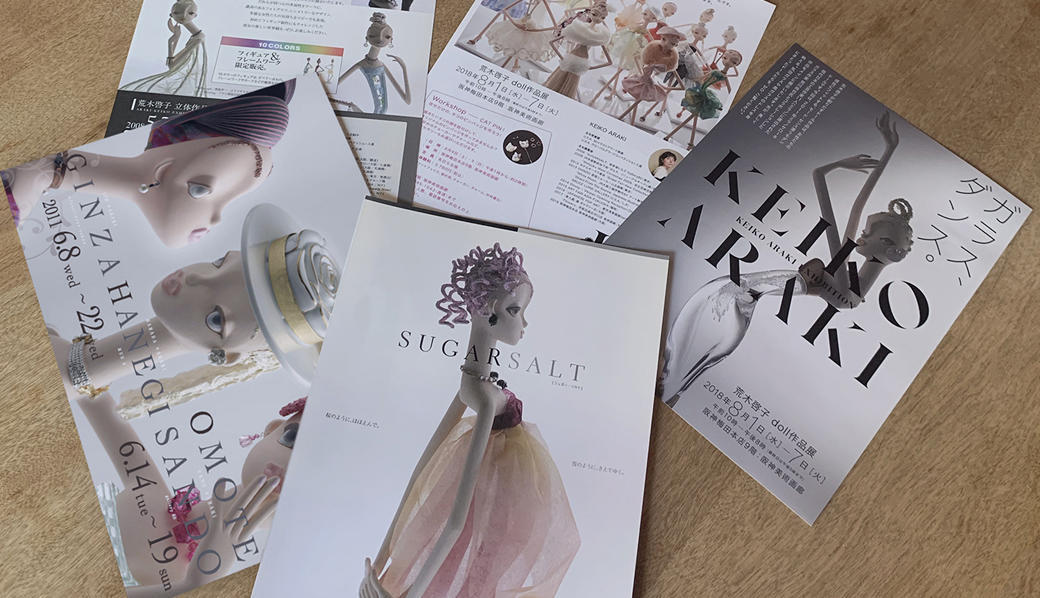 Ms. Araki, who makes many dolls using ribbons, used to make dresses from paper. "Once the paper is folded, it wrinkles and is often reattached. In that respect, the ribbon is much easier to handle and the drape is in the ideal shape."
Ms. Araki says that the reason for using the ribbon was the encounter with the SHINDO staff at the exhibition held at the gallery in Omotesando Hills, Tokyo in 2012. The SHINDO staff, who was fascinated by Ms. Araki's work and felt the potential, suggested "Why don't you make a doll with the S.I.C. ribbon? She was then invited to the S.I.C. showroom in Harajuku, Tokyo.
---
The range of expression has expanded and the quality of the work has improved. Encounter with S.I.C. is a turning point.
"When I talked to you, I felt that it seemed intuitively interesting. As I touched various ribbons in the showroom, the unexpected combination of colors was wonderful, and there was transparent beauty created by the layers. There was a discovery, and my motivation to create was swelling.
I am very happy that the showroom has become a source of new creations.
"It was good to be able to inflate the image while feeling the thickness and elasticity. Since the part that is cut does not fray, it can be used as it is, and it is easy to make small items such as bags and shoes."
By using ribbon instead of paper, the overall finish was luxurious, and I was pleased that the work was upgraded.
---
The possibility that ribbons can contribute to art, which I felt from the creative work of Araki Keiko.
We introduce works made using "S.I.C.".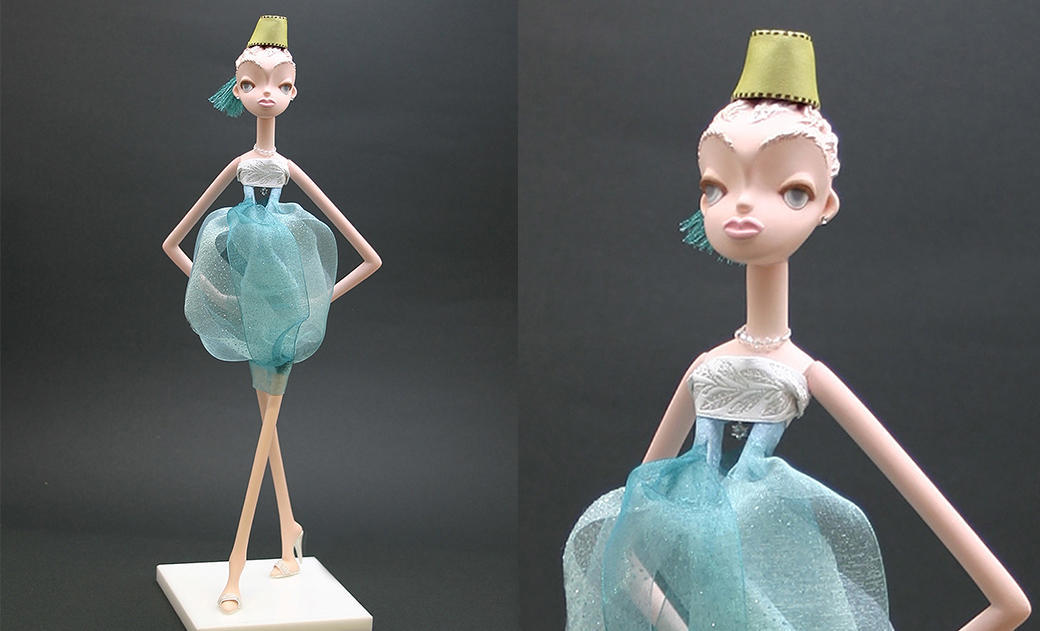 "Turkish-inspired costumes are a fantastic color with overlapping organdy. The point is a light balloon skirt that draws a soft curve made of blue organdy ribbon." (2013: exhibited at Harajuku showroom)
"The flowing ribbon is a mysterious and attractive color that changes depending on the viewing angle. The delicate luster gives off a gorgeous feeling, and the beauty of the drape stands out." (exhibited at the 2019 Harajuku showroom)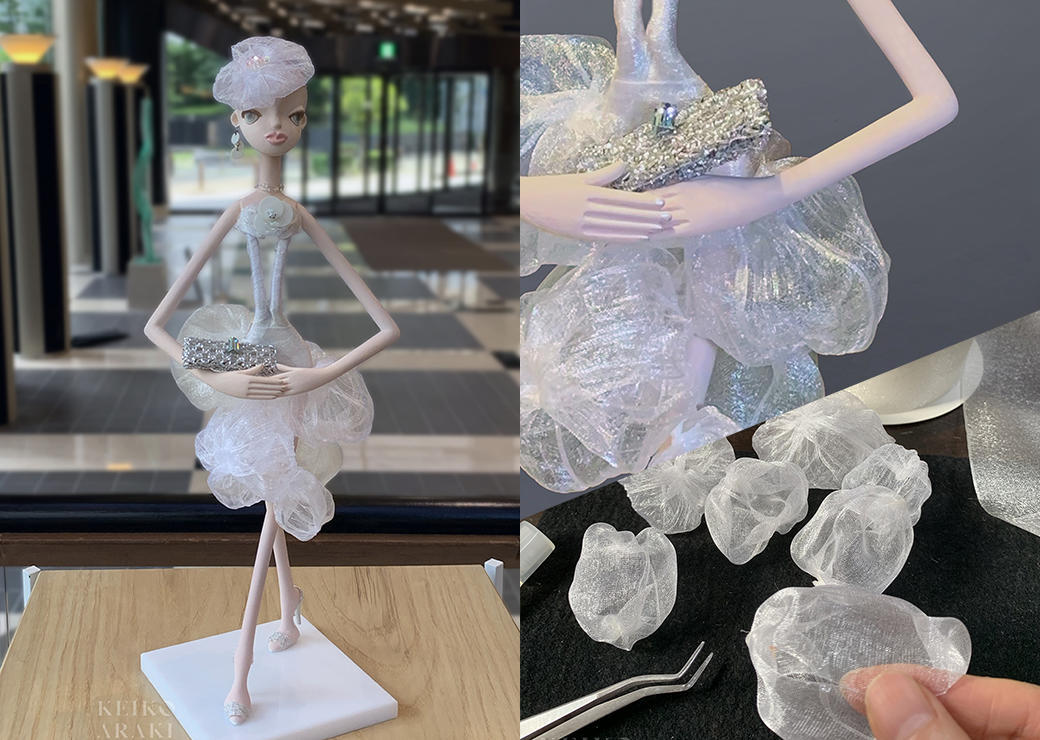 "I made large and small spherical decorations from ribbon that look like air. I like the subtle differences in white color, the sheer feel, and the gentle shades created by the overlapping organdy." (exhibited at the 2020 Pierce Gallery)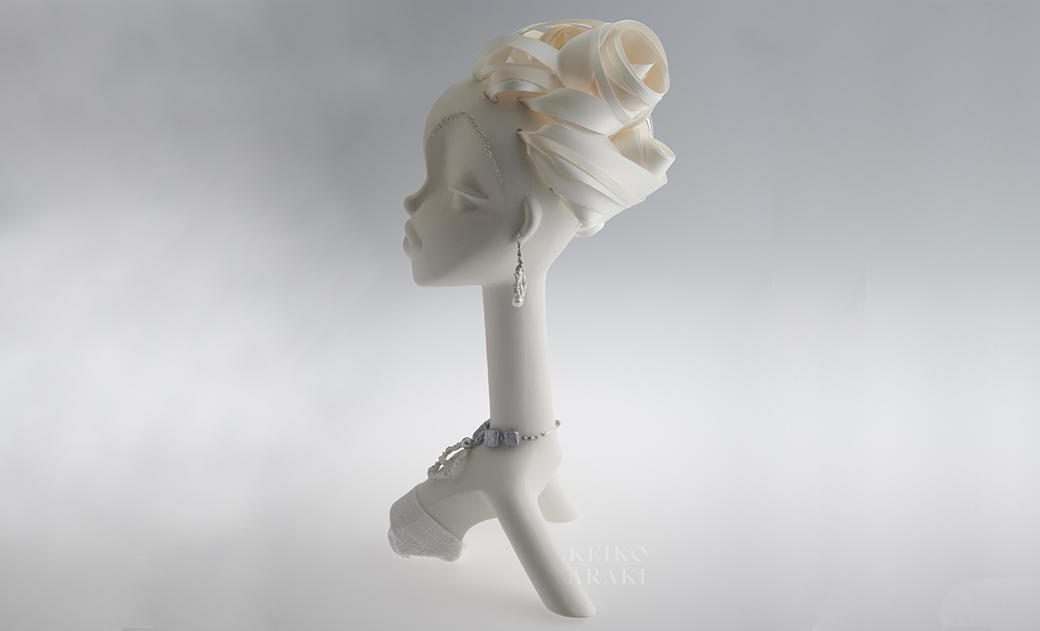 "I used a silk satin ribbon with a texture that captures light as if it were hair. The shiny and beautiful hair complements the jewelry beautifully."
Mr. Araki is planning to hold a solo exhibition at Gallery Shiro in Osaka in January 2021. When asked about future projects, she said, "Since large-scale works have continued in recent years, I'm thinking mainly about making anniversary dolls for a while. At that time, I would like to use SHINDO's ribbon again." She smiled kindly.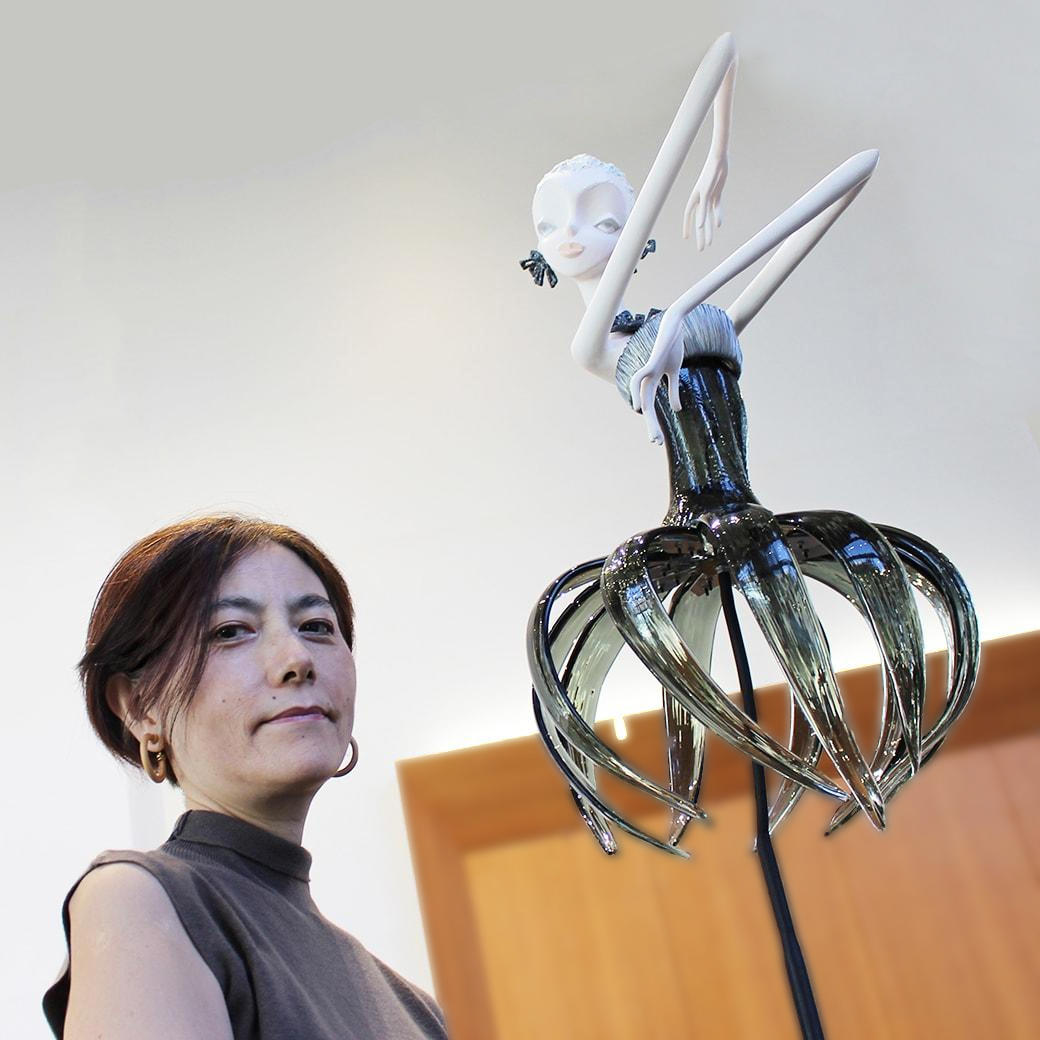 ■Keiko Araki

After working for an illustration production company for 9 years, she became independent. She evolved from an illustrator who was pursuing expression on a flat surface to the field of three-dimensional modeling. The attractive dolls with their own world view attract viewers at home and abroad, and are highly valued not only for solo exhibitions but also for commercial displays at department stores.