EventDec 28 2018
Première Vision: Attracting High Fashion Designers from around the World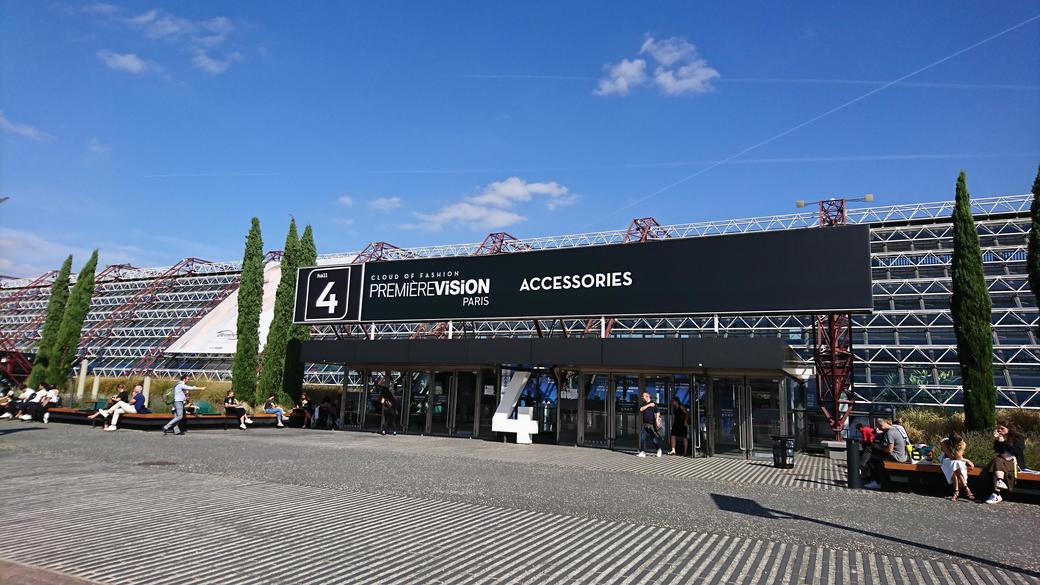 Première Vision, the world's premier fabric show, is held in Paris every February and September. Most recently, Première Vision Autumn/Winter 2019-20 took place over three days from September 19 to 21, showcasing the products of nearly 2000 manufacturers from 57 countries. Visiting the trade show, we could feel the enthusiasm and passion of participants and visitors. The event attracted 55,497 visitors in total, most of whom were designers. In this report we will summarize the activities of SHINDO at this most recent Premier Vision, including the development process in Japan leading up to the event, the items we exhibited, and the ambience of the venue.
---
An Influential Trade Show Offering Clues to Coming Trends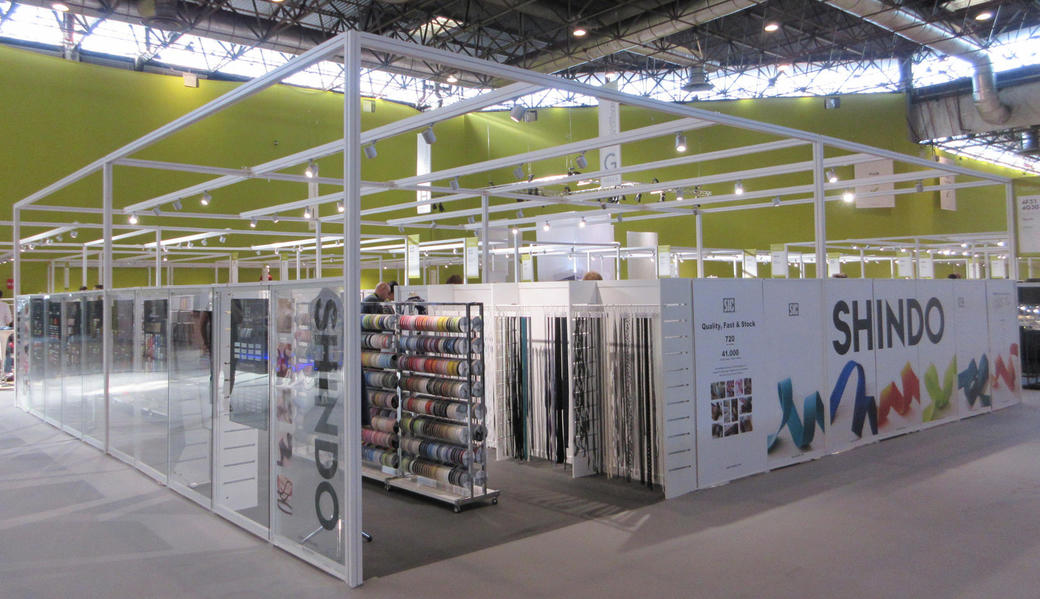 Première Vision consists of six categories: fabrics (the main category), yarns, print designs, accessories for dresses, leather, and manufacturing. The area of the venue is an amazing 100,000 square meters, taking one almost 15 minutes to walk from end to end! The colors and materials that attract significant interest at this event generally go on to manifest in worldwide fashion trends thereafter. Hence, the entire international fashion industry pays great attention to Premier Vision events. Most of the visitors are designers or creators in search of new materials. These are people with a knack for seeking out the next big materials and designs, and exhibitors accordingly go all out for every show to meet these designers' needs.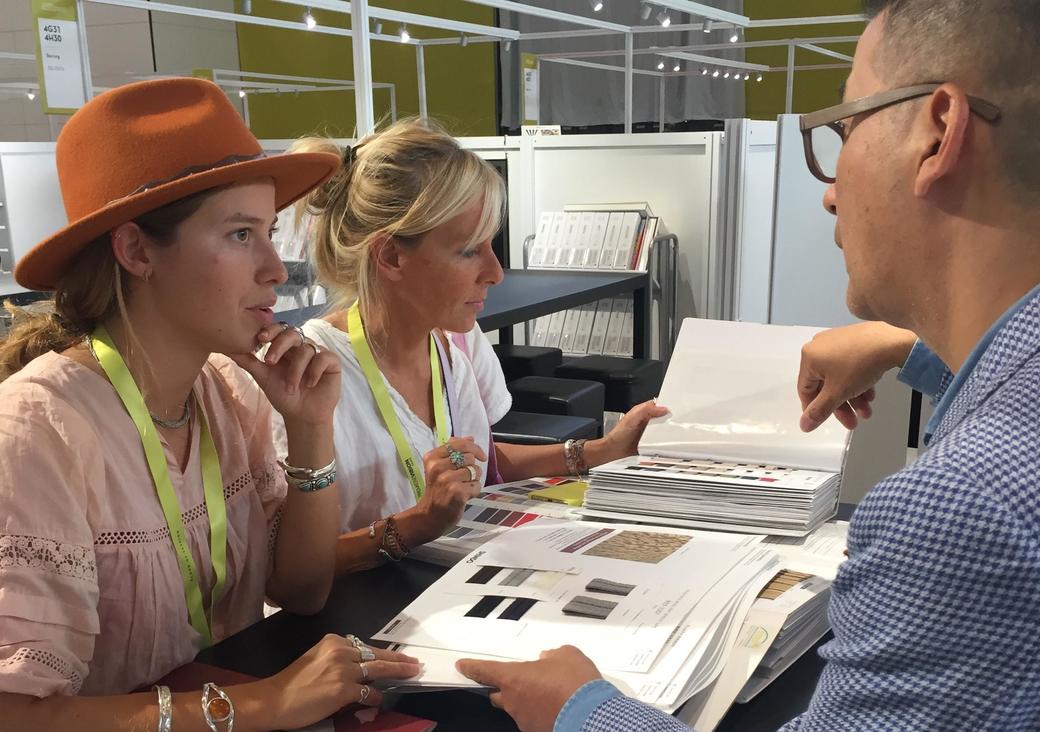 Première Vision also serves as an opportunity for face-to-face sales negotiations. For this reason, it is imperative for participating manufacturers to create viewer-friendly exhibitions, as well as bring along sales representatives who can speak a variety of languages to communicate with customers from around the world. At this event, even world-famous fashion houses, usually very hard to secure appointments with, come to us, saying "Show us SHINDO's new products!" We cannot help but get excited in the lead-up to the event as we prepare to answer to this type of interest.
---
Creating an Inspiring Breakthrough Product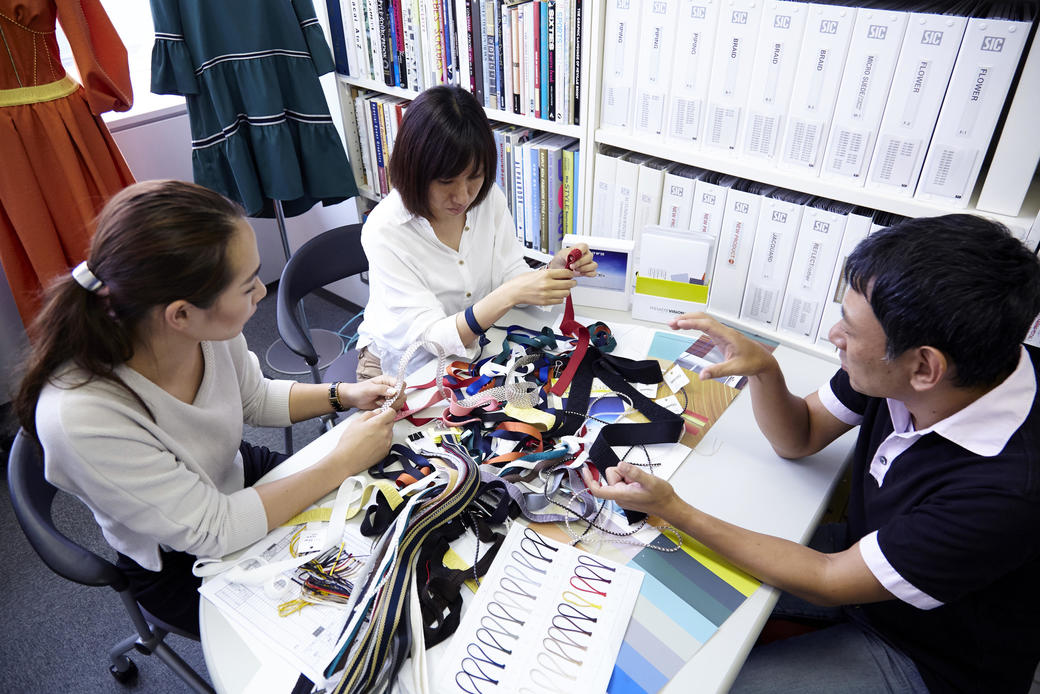 SHINDO became the first Japanese company to take part in Première Vision fourteen years ago, when it entered the accessories section. This past September's Première Vision Autumn/Winter 2019-20 was our 28th time to exhibit at the show. Première Vision is a highly exclusive trade show that screens out unqualified candidates: companies must satisfy various conditions and pass examinations, as well as ensure convincing quality in order to be an exhibitor. SHINDO begins its preparation process for these prestigious events five months in advance, gathering a planning committee to select the most impressive items to be showcased before the attendees.
---
Ribbon with Good Design and Functionality - The Ultimate Product Proves Popular
Among all SHINDO products showcased in September, the unanimous top pick among designers was our REF-5563 GATHERED STRETCH TAPE. It is an elastic ribbon meant to be used as a waistband or belt, featuring an impressive decorative gathering on the surface. Many designers commented favorably on the ribbon, stating that the article's impressive design features would make it a great accent on their garments. Being able to receive direct feedback on our products from highly-attuned designers is yet another attraction for manufacturers at Première Vision
『REF-5563 GATHERED STRETCH TAPE』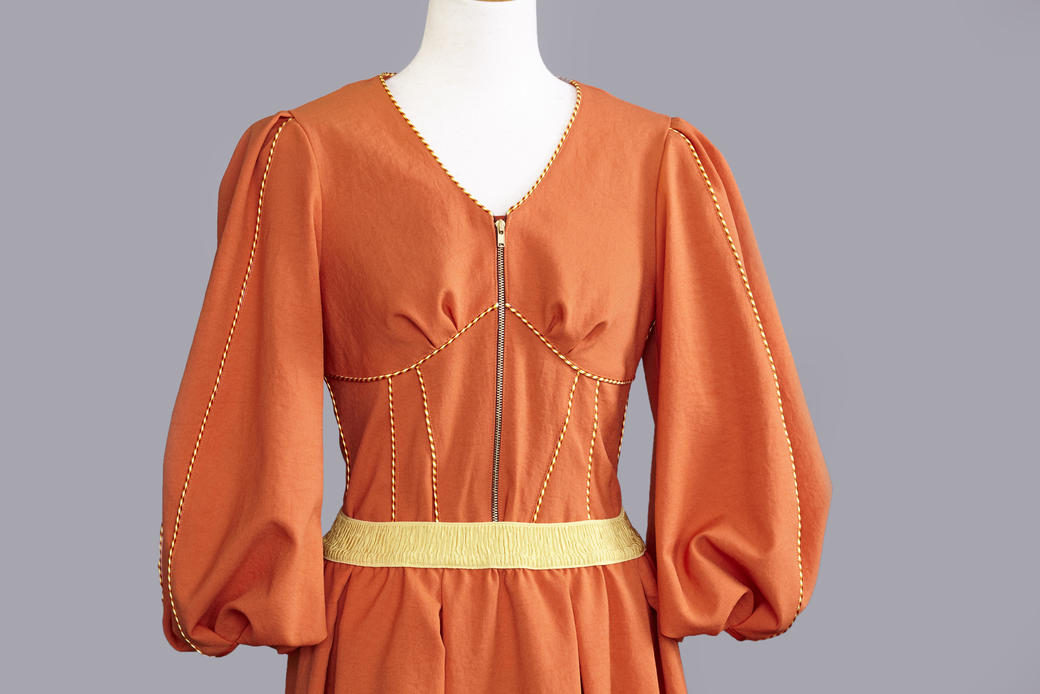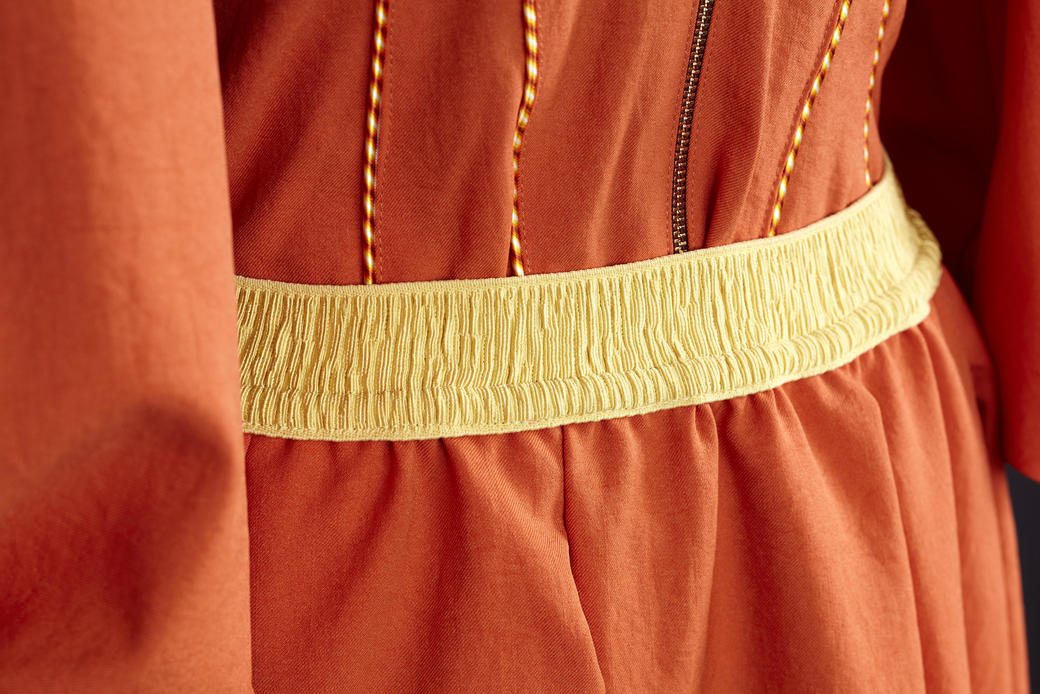 ---
Designers With Different Sensitivities and Smart Matching
The ambience at Première Vision is intense and busy from the very beginning. It is in this atmosphere that SHINDO appeals to the many visitors year after year, and this year's event was no exception. We presented our items at the highly-anticipated "Trend-Showing Section", in addition to our booth. Our booth welcomed an astonishing 564 business meetings over three days. Indeed, some visitors even had to wait to meet with us!
The event venue itself is a sort of melting-pot of international fashion flavor. Presentations from participants are made throughout the event, and agents from Spain, the U.S.A., Germany, Italy, and France must always be on hand to field questions and answers with minimal time-lag. This facilitates the exchange of ideas between manufacturer and designer. Manufacturers receive valuable hints for potential applications for their products, and for designers, the creative process of materializing a concept is accelerated. On our end, it is extremely important that we are able to respond to sample requests by designers from fashion houses, and we pride ourselves on being able to deliver these within a two week window. Designers truly appreciate this because they can then materialize their ideas while the inspiration is still fresh. This certainly is one of the strengths of SHINDO, which has overseas as well as domestic shipment facilities. Première Vision thus serves as a sort of kick-starter for fashion ideas, and is therefore an environment that is highly conducive to the creation of new business connections.
---
An Opportunity for Passionate Creators to Gather and Stimulate Their Sensitivity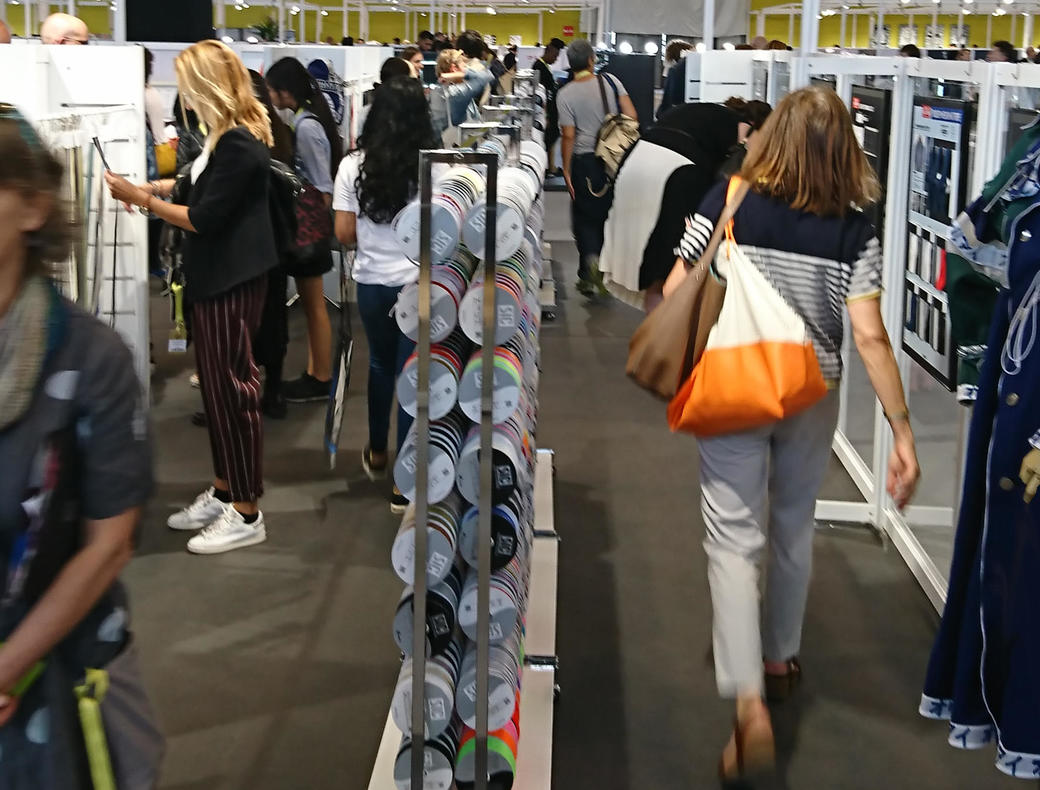 In addition to being an exceptional business-matching opportunity, Première Vision is, above all, a learning opportunity. It is an extremely valuable source of the latest information, especially through its seminars and discussions. At this past event, during a seminar on environmental sustainability, the speaker cited the case of a world-class sports apparel brand, which let to an impassioned and lively Q&A session. Designers can be inspired and their creativity stimulated by being a party to this information flow. On our end, we definitely see the feedback and requests we receive at Première Vision as a chance to update our sensitivities and remain receptive to clues for the future, which we then use to develop new global standards. SHINDO will thus continue to present state-of-the-art products that can encourage the imagination of creators, and we are already looking forward to meeting more inspiring people at the next Première Vision.